It's been a long year for Gucci, as it has both sought to stay on the cutting edge of fashion and convince the world it's made some major positive changes since the "blackface sweater" controversy that rocked the legendary fashion house this January.
But proving that the label still loves to provoke, creative director Alessandro Michele once again courted controversy on Sunday with Gucci's Spring/Summer 2020 show in Milan—its first entirely carbon-neutral presentation, according to W magazine. The show opened with a series of models in reportedly straitjacket-inspired looks, all of whom emerged from "a set of corrugated metal gates" on a conveyor belt-like runway.
One of those models, Ayesha Tan-Jones, who is nonbinary, used the moment to make a powerful statement about mental health, holding up their palms to relay a written message: "MENTAL HEALTH IS NOT FASHION."
As Tan-Jones explained in an extensive Instagram post accompanying a video of their protest:
I chose to protest the Gucci S/S 2020 runway show as I believe, as many of my fellow models do, that the stigma around mental health must end.

Worldwide, 1 in 4 people suffer from mental health issues, and LGBTQIA+ individuals are 3 times more likely to experience a mental health condition. LGBTQIA+ youth are 4 times more likely to attempt suicide, experience suicidal thoughts, and engage in self-harm, as compared to youths that are straight. 38-65% of transgender individuals experience suicidal thoughts. And for black and brown communities, indigenous communities, and Asian communities in the West, mental health statistics are much higher compared to white adults.

As an artist and model who has experienced my own struggles with mental health, as well as family members and loved ones who have been affected by depression, anxiety, bipolar and schizophrenia, it is hurtful and insensitive for a major fashion house such as Gucci to use this imagery as a concept for a fleeting fashion moment.

Many people with [mental health] issues are still stigmatized in the workplace and in daily life, while many people still do not consider mental health issues are 'real illnesses' as they may not be visible. [Straitjackets] are a symbol of a cruel time in medicine when mental illness was not understood, and people's rights and liberties were taken away from them, while they were abused and tortured in the institution.

It is in bad taste for Gucci to use the imagery of [straitjackets] and outfits alluding to mental patients, while being rolled out on a conveyor belt as if a piece of factory meat.

Presenting these struggles as props for selling clothes in today's capitalist climate is vulgar, unimaginative, and offensive to the millions of people around the world affected by these issues.
G/O Media may get a commission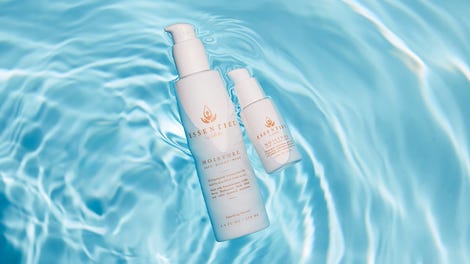 20% off
Essentiel by Adele
Tan-Jones' protest and stance garnered significant support both within and outside of the fashion community. As the artist and musician shared on Monday in a subsequent post thanking followers, several fellow Gucci models reportedly stood in solidarity with Tan-Jones—who donated one hundred percent of their fee to mental health organizations—by donating a portion of their own fees. Additionally, they offered a tangible form of protest to those who wanted to participate, tagging several US and UK-based organizations that work to support those suffering from mental health issues.
As Tan-Jones wrote (in part):
I want to use this opportunity to remind people that this sort of bravery, is only a simple gesture compared to the bravery that people with mental health issues show everyday. To have the bravery to get out of bed, to greet the day, and to live their lives is an act of strength...

The support people have shown to my act is more than I could imagine, so I only trust that we will share this same support to our friends, siblings, loved ones, acquaintances, internet friends or even strangers, who might be going through tough times with their Mental Health. Showing up for them may come in many forms, check in via text or DM, listen to them with patience and without judgement, offer a helping hand with household tasks like food shop, cooking or cleaning, regularly remind them how amazing and strong they are, but also that is okay feel the feels too, Lets show up for people with mental health and help end the stigma together!
As for Gucci, the label sought to clarify that the series of looks was not, in fact, an attempt at "asylum chic," per se, but a broader statement on societal constraints. As explained in a series of Instagram posts on Monday:
Uniforms, utilitarian clothes, the normative dress dictated by society and those who control it—this idea is represented in the opening 60 beige and ivory looks of the #GucciSS20 fashion show...

The group of first blank-style looks, seen in an image shot during fittings, by @alessandro_michele of the #GucciSS20 fashion show represent how through fashion, power is exercised over life to eliminate self-expression....

Uniforms, utilitarian clothes, normative dress, including straitjackets, were included in the #GucciSS20 fashion show as the most extreme version of a uniform dictated by society and those who control it. These clothes were a statement for the fashion show and will not be sold. @alessandro_michele designed these blank-styled clothes to represent how through fashion, power is exercised over life, to eliminate self-expression. This power prescribes social norms, classifying and curbing identity. The Creative Director's antidote is seen in the Gucci Spring Summer 2020 lineup of 89 looks, he has designed a collection that conveys fashion as a way to allow people to walk through fields of possibilities, cultivate beauty, make diversity sacrosanct and celebrate the self in expression and identity. #AlessandroMichele
Additionally, the label released a statement, obtained by Dazed, further explaining the concept behind the show:
The show presented how society today can have the ability to confine individuality and how Gucci can be the antidote. It was a journey from conformity to freedom and creativity. Uniforms, utilitarian clothes, such as straitjackets, were included on the catwalk as the most extreme version of restriction imposed by society and those who control it. The white outfits were a statement for the fashion show and part of a performance, in the sense of setting the context for what followed."
Is Gucci the antidote, or once again guilty of insensitivity? You can watch the entire Spring/Summer 2020 show below, and decide for yourself.