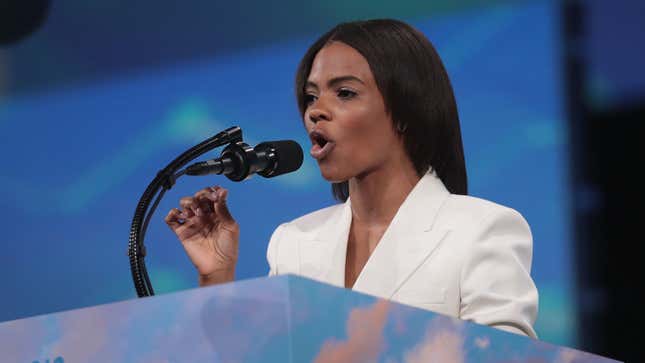 Here's a fun fact: Did you know Candace Owens recently married into British nobility? Specifically, the alleged creator of "Blexit" wed the hedge-funder son of a baron and parliamentarian in late August—at the Trump Winery in Charlottesville, Va., no less. While barons are the lowest order of British noble, it's probably safe to say Owens is firmly a member of the privileged class in two countries, nonetheless.
Tackling A Black Maternal Health Crisis & Embracing Reproductive Justice | The Root Institute
Perhaps this new life change—or Owens' seemingly unrelenting self-interest and upcoming book release (now in pre-order, y'all!)—made the conservative pundit feel qualified to issue her own edict on the Duke and Duchess of Sussex. On Monday, she dropped an unasked-for tweet in response to the royal couple's ITV documentary, filmed during their recent trip to Africa (you know, the focus of their philanthropic work).
Owens wrote:
Using African children as a backdrop to complain about your over-privileged life is offensive. Invoking your own mother's tragic death to demand the press stop calling out your hypocritical wife is downright disgusting. Meghan Markle is a witch. Harry is under her spell.
I'm not really sure what likely irrational personal beef would cause Owens to call Markle "a witch"—or what other types of children one would expect to see on a trip to Africa. But like most of her rhetoric, Owens' sentiment is neither new nor original (in fact, there's an entire chorus she can join in our comments section). That said, it was pretty rich, coming from someone who has arguably leveraged and manipulated her own blackness—not to mention anti-black sentiment, gun violence, and immigration—at her convenience.
The low blow on Princess Diana's death? In Owens' own words, just downright disgusting.
But Owens wasn't the only one showing her ass speaking out against the Sussexes this week. Talk show host Wendy Williams, who has garnered a healthy share of public sympathy and goodwill as of late, decided to get a few digs in on her show on Tuesday while airing the now-viral clip of Meghan discussing her naivete about the British tabloids.
"Yes you did. You knew exactly what you were doing," said Williams (h/t Page Six). "And I applaud her plot-ation on the royal situation. But please, don't try to garner sympathy from us. You knew what you were doing."
"Meghan, nobody feels sorry for you. You knew what you were signing up for, girl! Or Meghan's lying to try and get sympathy, for us to give her sympathy." Williams continued, shadily throwing in an anecdote about Markle once pitching Wendy's team during her days as an actress and lifestyle blogger.
Wendy, you should've just sat there and drunk your tea. We're not going to speculate on what you knew, were warned about or when—or what narrative you spun for the public—but we have had plenty of tolerance and sympathy for your situation (even when you weren't honest about it).
Look, we get it: it's hard to have sympathy for the one percent—especially when they're tied to an imperialist history. For those of you who wonder why we so often stand in support of Meghan Markle, it's not because we stan the monarchy or prioritize her very first-world issues over any other pressing sociopolitical concerns. It's simply because (aside from covering pop culture), in our experience, misogynoir happens to women and femmes of all classes—as do mental health crises—and before some of you go the "Meghan Markle isn't black" route, stop. It's silly, intellectually dishonest and a cop-out when it comes to addressing the anti-blackness at play here (hell, she's even played biracial on TV).
And it's the intellectual dishonesty, along with the hypocrisy and outright cruelty that's probably hardest to watch in the sensationalistic saga of the Sussexes—especially from black women. Is the idea that Markle is impossible to empathize with, exempt from pain or shame, and that only the most marginalized and underprivileged among us deserve sympathy?
If so, Owens, Williams, and most of us are exempt, too.