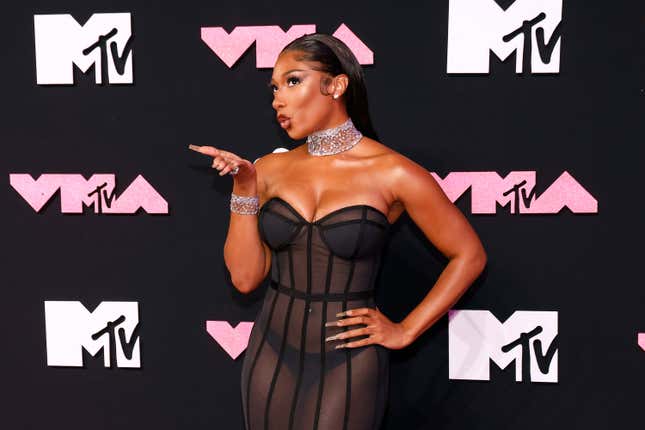 It looks like Megan Thee Stallion is planning to keep her hot girl summer going right into the fall.

This week, the "Savage" rapper revealed some of her secrets to staying fit and showed fans that while she always looks amazing on stage, there's a lot that happens behind the scenes. In a September 17 Instagram video, Megan shared clips of her putting in some serious work at the gym. And judging by her super snatched waist, all of that hard work is paying off.
"The results have been resulting," she said in a voiceover for the video. "The word for the rest of the year is consistency."
Jump squats with resistance bands and a medicine ball, jump rope, deadlifts, mountain climbers and bear crawls were just a few of the exercises Megan's trainer included in her grueling workout sessions that seemed more fit for a football player than a rapper. The video ends with a shot of her well-balanced plate and a pitch to Nike for a Meg-inspired line of athletic wear. "Would ya'll really be excited if I had like some sets coming out? Because I feel like the hotties really want that. And Nike, I just feel like we need to set that up," she said.
Fans were quick to point out Megan's sleek physique in the comments. "The waist has left the chat!" and "File a missing person's report for the waist!" were just a few of the hilarious responses.
She even had a few celebrities take notice, including actress and model Claudia Jordan, singer Nicole Scherzinger and everybody's baby daddy, Nick Cannon, who wrote, "Consistency!!! Love your Light! You're Unstoppable!!"
Others offered words of appreciation for Meg showing that her body is built in the gym rather than the doctor's office.
"I love the transparency! Everyone is running to the doctor to get that Meg the Stallion body. But [what] they need to see is that Meg the Stallion is made in the gym," wrote one commenter.
If you want to see Meg's hard work for yourself, check out the video here. Come for the exercise, stay for her hilarious commentary.