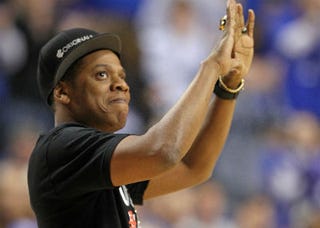 Jay-Z released "Glory," a song dedicated to Blue Ivy Carter, his newborn daughter with wife Beyoncé, on Monday. When I pressed play on the sentimental track, I was shocked.
Rap has been here before, of course. Only people who haven't spent many years listening to as much hip-hop as possible would be surprised that the genre's artists can be deep, introspective and personal. Die-hard Jay-Z fans recall the brief mention he gives to having a stillborn baby on the song "This Can't Be Life" from his 2000 release The Dynasty: Roc La Familia. Most recently, Jay-Z mined the fatherhood topic, albeit hypothetically, on "New Day" from last year's Watch the Throne album.
But anyone paying attention to Jay-Z's career notices how, over the years, he's attempted to dissociate himself from the stigmas of being just another rapper. He might record a verse with artists like T.I. or Rick Ross, but those are basic moves to keep his street cred intact: strategic but effortless.
These days, Jay-Z focuses on establishing himself as a living legend, not just within his genre, but beyond it. He has to be more than a critically acclaimed artist; he has to be image-savvy as well, so he does things like plan February's headlining shows at Carnegie Hall, then releases a song about the timeless topic of parenthood before his wife even gets released from the hospital.
Jay-Z doesn't write a song like "Glory" because rappers like Ja Rule have songs like "Daddy's Little Baby." He does it because legendary hip-hop artists like Lauryn Hill have songs like "To Zion." The cries that Jay-Z tacked on at the end of "Glory" aren't there because he thought it was adorable (it is). He's emulating Stevie Wonder's knack for nuance on "Isn't She Lovely."
Perhaps even slyer is how he one-upped his own wife. He knows that Beyoncé has all the tools to create a smash hit about their daughter, but before Mommy can even get in a recording booth, Daddy says a few words.
None of this is to say Jay-Z was all brains and no heart when he recorded "Glory." Vulnerable lyrics about a previous miscarriage and their daughter's conception are a clear indicator that her birth moved Jay-Z. The question is, for a rapper who has a reputation for being so tight-lipped about his personal life with his celebrity wife, what changed?
Back in 2009, after Jay-Z released The Blueprint 3, this publication published a commentary that I wrote entitled, "Jay-Z Should Rap About Marriage": "When are we going to hear one of these married or crazy-in-love rappers like Jay-Z rap about holy matrimony? With one song, Jay-Z can do what Hill Harper, Steve Harvey and arguably the Obamas have not been able to do. He can make marriage cool."
As a Jay-Z fan and a nerd when it comes to issues surrounding love, relationships and marriage, I was disappointed not to hear anything about those topics from my favorite rapper on that album. I thought it a missed opportunity.
On "Glory," Jay-Z goes beyond the personal and into the secretive, divulging details to which only the closest of kin was previously privy.
I am not a father; nor am I married. But I have written about women I loved, and at times, it's difficult. Whether they're in my life or not, I know that what I say about someone I care about can affect them even if the post is more about me and they're a side character. And I'm just a writer with a small following on my blog.
Jay-Z is a superstar with a superstar wife. I can only imagine what kind of scrutiny they would be under should he rap a mere bar about their lives as Mr. and Mrs. Shawn Carter. But there's something different when it comes to children, who are extensions of you in some way, being brought into this world.
I know what it's like to be moved by the birth of a child who, if not yours, is close to you. When I knew I was going to be an uncle for the first time, the situation inspired me to occasionally write about the new experience, something even Jay-Z knows about (hear "Lost One" for his touching verse on the death of his nephew). Now he's a father, which means the game is about to change.
"Glory" isn't a song about Blue Ivy Carter so much as it is a song about Papa Carter, a moment for which Jay-Z has likely braced himself long before he met his wife.
Jay-Z may never rap a bar about being a married man, but like it or not, we should all get ready to hear a side of Jay-Z we've never heard before. The man is a father now. Who knows if it means he starts rhyming about putting a baby seat in the Maybach or records a song for Yo Gabba Gabba!? What I do know is not to expect this to be the last song Jay-Z writes about being a father.
Jozen Cummings is a writer living in Harlem, N.Y. You can follow him on Twitter and read his blog, UntilIgetmarried.com.
Like The Root on Facebook. Follow us on Twitter.
Jozen Cummings is the author and creator of the popular relationship blog Until I Get Married, which is currently in development for a television series with Warner Bros. He also hosts a weekly podcast with WNYC about Empire called Empire Afterparty, is a contributor at VerySmartBrothas.com and works at Twitter as an editorial curator. Follow him on Twitter.