Meet 21-year-old Nia Wellman, known as Nia Imani on social media. Nia is a jack of all trades. She became a YouTuber back in '07, then started the college service-based organization Campus Curlz Inc., and now she's the CEO of a hair growth-tracking app called Hair Days.
Nia's YouTube channel focuses on beauty, but she has a wide variety of videos which include her journey as a gay black woman and life-in-college vlogs. She initially started the channel in 2007, first making rap videos with a cousin before transitioning to a channel that documented her college life at Hampton University, growing from 7,000 subscribers to 110,000 subscribers from her freshman to senior years.
One of Nia's most successful videos has close to a million views and is a tutorial on how to highlight and contour.
"One of my best videos was a makeup video, and when I look at it now, it's kind of funny. It's a dark-skinned highlight-and-contour video and I uploaded it almost two years ago but it got close to a million views," Nia said.
People truly don't give YouTube personalities the credit they deserve; many of the talent, including Nia, are self-taught videographers and editors. It generally takes her up to five hours to edit and at least two days to fully produce the videos. As for the app Hair Days, it was initially founded by Tiffany St. Bernard and Sheldon Davis, but Nia was brought on to rebrand and help the app gain more exposure.
G/O Media may get a commission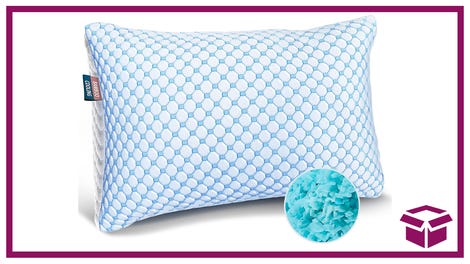 23% off
Nestl Cooling Pillow - Queen Size
Like Nia, St. Bernard is a "naturalista." The two met at tech conference in March, both wanting to create an app that allowed members of #TeamNatural to keep track of their hair growth, which began their collaboration on Hair Days.
"I would like [Hair Days] to be more user-friendly, and also want to create a larger community centered around the app, so naturals have a space to share their hair journey other than Instagram and Youtube," Nia told The Glow Up. "One of my main goals is to grow Campus Curlz because it's so fun and I'm happy I [can] create a safe space for black and brown girls on college campuses."
Keep snatching edges Nia—and congrats on all your success!