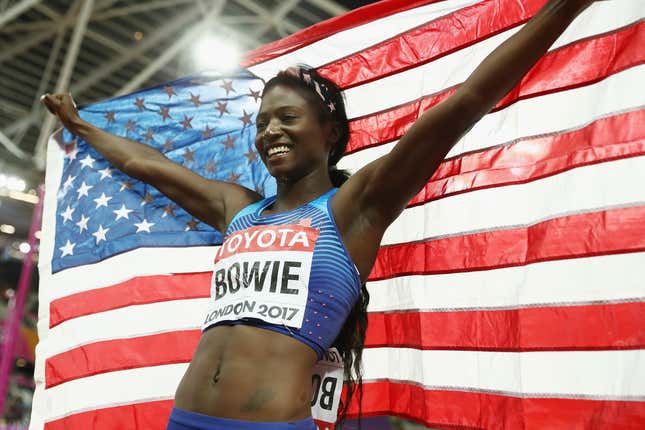 Three-time Olympic medalist for track and field Tori Bowie, 32, was found dead by police in May 2023. One month later, we are learning that Bowie's death was due to complications during childbirth.
Here's 6 Things You Should Know About Long COVID
Although the Olympian passed away in late April 2023, according to her obituary, her management team and the Orange County Medical Examiner's Office did not immediately release details about Bowie's state upon her death. According to an autopsy, the champion sprinter was an estimated eight months pregnant and going through labor when she passed away.
A welfare check was requested for her home in Winter Garden, Florida, after the sheriff's office received reports that Bowie was not seen or heard from for days.
When the news first broke about Bowie's death, speculations swirled as social media users suspected the sprinter may have harmed herself, due to the cause of death being concealed from the public.
However, officials have now been led to believe that Bowie's childbirth complications may have included respiratory distress and eclampsia. Eclampsia is a rare and life-threatening condition that occurs toward the end of someone's pregnancy when they develop seizures due to high blood pressure and protein in their urine.
Bowie's cause of death reignites the concern of more Black women dying from childbirth than any other race in America. According to a 2021 report by the National Vital Statistics System, Black women are nearly three times more likely to die during or soon after childbirth.
Bowie's story prompts people to look towards the fact that her status as an athlete did not necessarily decrease her likeliness to experience childbirth compilations. One of the greatest athletes in the world, Serena Williams, has also been vocal about almost dying after giving birth to daughter Olympia in 2017.
Williams's situation was slightly different from Bowie's, being in a hospital surrounded by care rather than alone in her home. But it proves that Black women and pregnancy are a consistent concern. Williams was in a hospital but was still left to speak up for herself as the doctors and nurses ignored the Grand Slam champ's complaints that she couldn't feel her legs after childbirth, which turned out to be blood clots.