A Maryland woman has pleaded guilty to, but will not be held criminally responsible for, the murders of her best friend's two toddlers last January during what she believed was an exorcism, WUSA reports.
Monifa Sanford suffered from mental illness, leading her to hallucinate and hear voices, one of which she believed to be Satan. She testified that the devil told her he was going to "kill the babies" and that "if she wanted them to go to heaven, she had to [kill them] herself," the news site notes.
"She believed that she had been initiated into this group of demon assassins," defense attorney David Felsen said, according to the news station. "They had believed that inanimate objects had been possessed, there were demons in their house, that they had been possessed individually, that at other times the children had been possessed."
The children of Sanford's best friend, Zakeiya Avery, were choked and repeatedly stabbed on Jan. 17, 2014, in the gruesome and terrifying incident that left two siblings, 18-month-old Norell and 2-year-old Zyana, dead. Their two older siblings, a 5-year-old girl and an 8-year-old boy, were also stabbed and choked, but survived.
"I think this case was profoundly disturbing to everyone who's touched it. They're children that are involved in this case," Montgomery County State's Attorney John McCarthy said, according to WUSA.
G/O Media may get a commission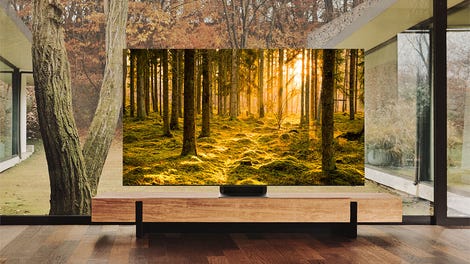 Up to 40% off
Samsung Smart TVs
Sanford was committed to the Clifton T. Perkins Mental Hospital for treatment, where she could remain for the rest of her life.
Avery—who in addition to being the children's mother was also Sanford's roommate at the time of the murders—also participated in the "exorcism," authorities say, and is expected to go on trial later this year.
Read more at WUSA.