Five days after he was convicted of putting a gun to a man's head outside his home for no apparent reason, a former Prince George's County, Md., police officer was recorded saying that the victim should apologize to him, reports the Washington Post.
 "If anything, they should be saying sorry to me, because all he wanted was a payday," Jenchesky Santiago said in a jailhouse recording of a call with his mother. Prosecutors say that the call proves that Santiago is dangerous and not remorseful.
Santiago was sentenced on Friday for the May 2014 incident in which the 26-year-old had two friends from New Jersey riding along with him in his police cruiser when he pulled over in front of William Cunningham's home in Bowie, Md.

Cunningham was in a car with his cousin when Santiago repeatedly asked the men what they were doing and insisted that they were illegally parked, the Post reports.
Cellphone video released by the Prince George's County Police Department shows Santiago pressing the two men even after they explained that Cunningham lived in the house and that they planned to get out of the car and go inside.
As Cunningham headed to the front door of his home, the Post notes that Santiago backed up, parked his cruiser and ran after Cunningham, ordering him to return to the car.
G/O Media may get a commission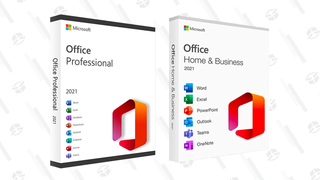 89% off
Microsoft Office Professional 2021 Lifetime License
The officer then pulled out a gun, pointing it at Cunningham's head and mouth, shouting, "I dare you to [expletive] fight me, son," as the officer forced Cunningham back to the car.
Santiago reportedly then searched the two men before Cunningham's wife came out of the house and confirmed that he lived there.
Cunningham filed a complaint, and after an internal investigation, Santiago was fired Dec. 18.
Tearful friends and family members spoke on the disgraced officer's behalf at his sentencing on Friday, asking the judge for leniency, the Post notes.
However, Prince George's County Circuit Court Judge Dwight D. Jackson said that Santiago's actions diminished the work of police officers everywhere.
"Perhaps you were bored or perhaps you wanted to show off," Jackson said. "You degraded that man."
Read more at the Washington Post.