Lift every voice and lip sync, 'til you clap on the 1 and 3.

On the night of May 1st, also known as May Day, a young woman by the name of Taylor Swift decided to take a break from practicing her faux- "OMG I won another mainstream award" face in the mirror to gather a group of Beychella-tethered marching band members from the underground Historically Gentrified Colleges & Universities (HGCU) and wage war on the pure black joy of Coachella 2018 like the professional troll she is.
Her setting of choice? The 2019 Billboard Music Awards (BBMAs).

Naturally, everyone recognized a bizarre occurrence of deja vu and were not particularly keen on any substitutes.
Case in point:
G/O Media may get a commission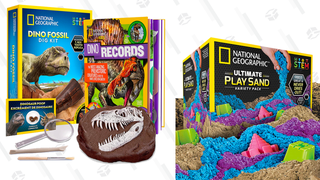 Up to 33% off
National Geographic Science and Activity Kits
Now, of course, one may say, hey Beyoncé didn't invent marching band performances. That is a common misconception. If you turn your history books to page 4, you'll see that in the year 44 B.B.C. (Before BeyChella), a BeyVenger found a tesseract known as the BeyHive Stone in the Coachella crypts. Beyoncian lore says that at the snap of a finger — on beat, mind you, unlike her copycat successor — King Beyoncé ruled that on April 21, 2018 the world would finally be ready for a proper wig-snatching.
"So let it be slayed, so let it be done," the stanned King uttered to her kingdom, according to textbooks.
Black history, folks.
As urban legend would have it, the only way to summon this tesseract is to utter the phrase "Oohweebeebeefreakydeakythinkmeseeshepinkbikinirockthatkufidyethatshikinefertitiedgeskinky," but you ain't hear that from me.
Now, if you'll excuse me, I need to procure some hot sauce from Costco to wash out the mayo from everyone's mouths.