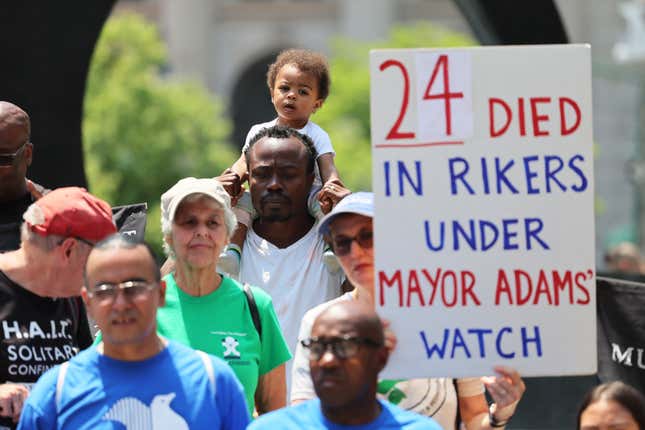 Rikers Island is one of the most notorious jails in the United States for a reason. Reports of unsanitary conditions, inhumane treatment, and deaths of inmates have plagued Rikers for years.
NYPD Using "Zombie Warrants" To Skip The Courts and Lock People Up, Lawsuit Says
But major changes could be in store for the infamous New York City jail in the form of new management. On Thursday, a Federal Judge allowed a case to go forward which would take control of Rikers Island away from Mayor Eric Adams, giving authority of the jail over to a court-appointed monitor.
Calls for the federal government to step in and reform the jail have been mounting. Those demands were strengthened by a 288-page report blasting city officials for their failure to improve conditions within Rikers. The monitor noted that despite the implementation of an improvement plan, there had been "a disturbing level of regression" within the jail.
"Compounding the concerns the concerns about the overall lack of progress," they wrote, "is what appears to be the Department's inability or unwillingness to identify and therefore address the objective evidence regarding the pervasive dysfunction and harm that continues to occur daily in the jails."
Unsurprisingly, Adams, a former NYPD cop, and his administration are fighting tooth and nail to keep control of the jail. "My team, with the help of Eric Adams, has taken this system from the precipice of collapse," Department of Correction Commissioner Louis Molina said on Thursday, according to the Associated Press. "No receiver will come to the Department of Correction and induce greater reform at a faster pace than what we have accomplished."
Despite making up roughly 24 percent of New York City's population, Black Americans make up the majority of people incarcerated at Rikers. And the reports from within Rikers Island from before and during the Adams administration have been troubling. At least seven people have already died at Rikers this year, according to the New York Times. And last year was the deadliest year on record within the jail in nearly a decade.
The potential federal takeover wouldn't be an immediate process. Both sides still have months to present their arguments, which means, at least for now, the jail will remain under Adams' control.