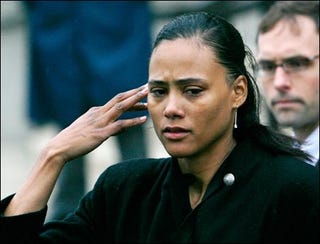 Once-celebrated track-and-field star Marion Jones has written a book, On the Right Track, detailing her shocking rise and fall in the world of track and field. Once known as the fastest woman on earth, the former Olympian admitted that she lied to federal investigators about using performance-enhancing substances and her involvement in a check-fraud case. After confessing her guilt, Jones spent six months in prison and was stripped of her medals and prizes.
Read an excerpt below:
"I was stoic and scared at the same time. I pled guilty to two charges: lying in 2003 to federal investigators about my use of a performance enhancing drug and lying to them about my knowledge of a separate check fraud case. In my guilty plea, I told the court that in September 2000, before the Sydney Olympic Games, a former coach first gave me a substance he told me was flaxseed oil. As it turned out, the 'flaxseed oil' was a performance-enhancing drug (PED) now known as 'the clear.' "

Read more at abcnews.go.com.