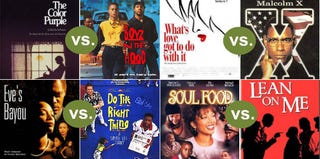 (The Root) — The movies in this category made it to round 2 against some tough, Oscar-nominated competition — Lady Sings the Blues, A Soldier's Story and Precious were all booted in round 1. But there's no time to mourn if your favorites didn't make the cut. Now it's time to put in your vote below for which movies — Boyz n the Hood or The Color Purple? Malcolm X or What's Love Got to Do With It? — will compete in the March Movie Madness Sweet 16.
When you're done, be sure to vote in the comedy/musical, romance and action categories. Click here to see the full bracket.
Like The Root on Facebook. Follow us on Twitter.