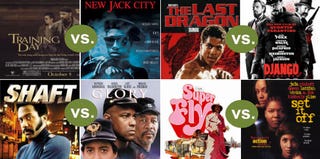 (The Root) – There was some very close competition in round 1 in the action category — The Last Dragon barely beat Blade, and Training Day came from behind at the last minute to best Bad Boys. Are the round 2 matchups just as tough? Vote for your favorites below.
When you're done, be sure to vote in the comedy/musical, drama and romance categories. Click here to see the full bracket.
Like The Root on Facebook. Follow us on Twitter.