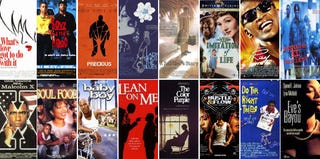 (The Root) — Spike Lee movies show up twice (Do the Right Thing and Malcolm X) in our March Movie Madness Black Dramas category. Then there's Denzel's first major film (A Soldier's Story), brilliant biopics of our most treasured music greats (What's Love Got to Do With It, Ray and Lady Sings the Blues), dueling South Central street-violence flicks (Boyz n the Hood and Menace II Society), plus more classic dramas with black casts or black stars. Which ones deserve to advance to round 2? Vote for your picks below and then click to vote in the comedy/musical, action and romance categories. 
The final showdown is April 8, 2013. Don't miss it!
You're not done voting! Vote for our other round 1 matchups:
Click here to see the full bracket. 
Like The Root on Facebook. Follow us on Twitter.