The Multnomah County Sheriff's Office in Oregon is investigating a "bias" crime that was reported Tuesday after Hasel Afshar, who is originally from Iran, returned from a three-day vacation in Canada to find his home ransacked and vandalized with racist graffiti. The vandals even left a threatening note.
According to local news site the Gresham Outlook, the graffiti referred to Afshar as a "terrorist" and a "Muslim" and directed him to "get out of America."
"I'm not Muslim," Afshar, who is of the Baha'i faith and has lived in America since 2010, told the news site. "I just grow a beard."

The vandals went so far as to leave a threatening note on Afshar's coffee table that was weighed down with seven .45-caliber bullets placed in the shape of a cross.
"If I see you here next month, I will shoot you and burn your house," the note read, according to the site.
G/O Media may get a commission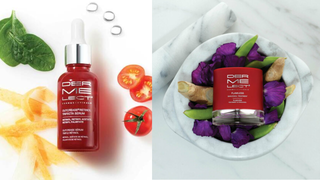 Save $19
Retinol Renewal Kit
Afshar is taking that threat seriously. He is unsure how long it will take to clean up the hateful damage done to his home, but in a week or two, once the job is done, he says he will leave the United States. He told the Outlook that he has friends in Australia and Canada who never have to go through discrimination like this.
"I'm not going to be a hero and stay here and fight about it," Afshar said. "I'm not going to sit here and wait for someone to shoot me."
He doesn't really have a plan, but says he hopes that living in an apartment might be safer, and he does not even care if he loses money selling the property he has owned since 2006.
According to Afshar, this is not his first brush with prejudice. Most recently, Afshar says that when he was parking outside a Plaid Pantry, a man in a baseball cap pulled up in a white construction van.
"Get the [expletive] out of America. We don't want you here," the man shouted during the March 7 incident.
Police Lt. Chad Gaidos said that a full investigation into the situation is underway.
"He is of Middle Eastern descent, and that's kind of the tie-in here; that's why we're doing it or why we're concerned about it," Gaidos told the Outlook.
According to Oregon Live, deputies acknowledged that they found graffiti "consistent with an intimidation-bias crime."
I guess "hate crime" is too strong a word?
At any rate, the Council on American-Islamic Relations is asking the FBI to look into the issue.
"The FBI should join in the investigation of this apparent hate crime in order to demonstrate that the rights and safety of American Muslims, and those perceived to be Muslim, will be protected," CAIR spokesman Ibrahim Hooper said in a statement.
Anyone with information regarding this case is asked to contact the MCSO Tip Line at 503-988-0560.
Read more at the Gresham Outlook and Oregon Live.