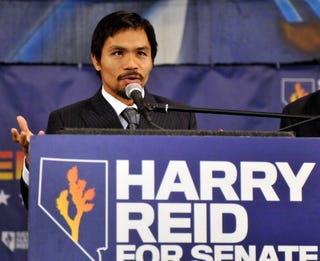 Most Americans know Manny Pacquiao as a boxer, but he is much more than that. He is also a congressman in the Philippines. Pacquiao, who will fight Antonio Margarito on Saturday at Cowboys Stadium, is focused on improving the livelihoods of those in the Philippines as he remembers his own impoverished youth. The Los Angeles Times reports that Pacquiao aspires to a higher calling. "I want to be a champion of public service," he said Tuesday after a workout for his Saturday-night world junior-middleweight title fight against Mexico's Antonio Margarito.
Since taking political office this summer as a congressional representative of the Sarangani province, Pacquiao has focused on improving his countrymen's livelihoods, starting with improved medical care and education. The causes are rooted in Pacquiao's childhood memories of surviving poverty, sleeping on dirt floors and selling cigarettes on the street. "No money to buy food, hungry," Pacquiao said. "I'll always remember my past. When I was young, I had no one to help [me]." "I believe I'm supposed to be doing this." The boxer-congressman has introduced two bills, one to provide funds for local medical aid — barely more than a quarter of his country's population have health care — and another to construct his province's first hospital. And yet another reason to root for Manny Pacquiao this weekend. It is always nice to see a professional athlete give back to his community instead of flossing for the world. Aren't you glad that Pacquiao doesn't care whether Republicans buy Nikes?
Read more at the Los Angeles Times.