Manny Pacquiao is trying his hands at politics during a run for a Senate seat as a conservative in the Philippines. Pacquiao, who has made homophobic comments in the past, doubled down on them during a recent interview.
"Have you seen any animal having male-to-male or female-to-female relations?" Pacquiao asked in a video released on a Philippines news site. "If you have male-to-male or female-to-female [relationships], then people are worse than animals."
Floyd Mayweather weighed in on Pacquiao's comments and disagreed with his biggest rival.
"We should let people live their lives the way they want to live their lives. To each his own," Mayweather told TMZ.
Fellow Filipino celebrity Aiza Seguerra, a transgender man, said on Instagram that Pacquiao was a bigoted hypocrite:
"You might've done our country proud but with your statement, you just showed the whole country why we shouldn't vote for you," Seguerra posted. "And yes, I think you are an ignorant, bigoted hypocrite."
G/O Media may get a commission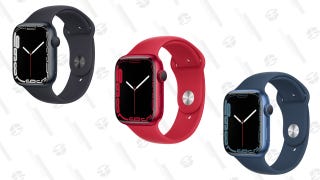 Up To $45 Off
Apple Watch Series 7
Pacquiao said that his comments are common sense, but now he's apologizing for his definition of common sense.
"I'm sorry for hurting people by comparing homosexuals to animals. Please forgive me for those I've hurt," Pacquiao said in a video. "I love you all with the love of the Lord. God Bless you all and I'm praying for you."
Pacquiao, I'm sure no one wants your prayers.