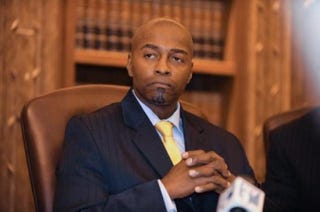 Johnnie O'Neal cleared his name about a year ago, but the 54-year-old man who spent 13 years behind bars for a rape and robbery that he did not commit is now seeking compensation from New York City for the years he lost, the New York Daily News reports.
In court documents, O'Neal, who was convicted in 1984, accuses the detective who worked on his case of falsely testifying that the mother of the victim had identified him as the rapist from a 10th-story window, the news site notes. This despite the fact that there had been victims of similar attacks in the same area who insisted that O'Neal wasn't the culprit, a fact that prosecutors in Manhattan kept under wraps, O'Neal claims in his lawsuit.  
"Exculpatory evidence was withheld from plaintiff during the course of his criminal trial," reads the suit, which seeks an unspecified amount in damages, according to the Daily News.
According to the report, in 2007, when the case was reinvestigated, evidence suggested that a man named Gregory Smith, also known as PeeWee, was the culprit. Smith wore the same type of jacket and used the same style of knife as described by the victims, and reportedly even confessed to his part in the rape and robberies. He died 15 years ago. 
Read more at the New York Daily News.