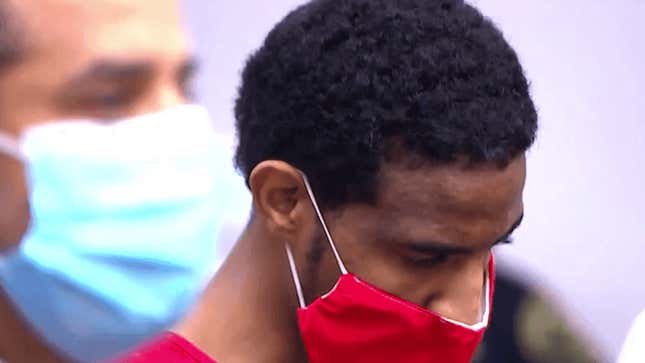 A Black man who pleaded guilty to—of all things—vehicular homicide after hitting two Black Lives Matter protestors with his car in 2020—now faces a long stretch in prison.
Courtney B. Vance in Heist 88 Is Our Black TV Pick of the Week
Dawit Kelete, 30, also pleaded guilty to vehicular assault last week, in an incident in which he was responsible for the death of 24-year-old Summer Taylor and for seriously injuring Diaz Love. He also pleaded guilty to reckless driving, which is a misdemeanor. As part of the plea agreement, prosecutors recommended a sentence of more than six years in prison and 18 months of probation. On July 4, 2020, the Washington State Patrol stated that Kelete drove the wrong way onto Interstate 5, near a barricade of parked vehicles, and hit Taylor and Love.
Taylor was later pronounced dead and Love was hospitalized with a traumatic brain injury, fractures and lacerations. In his plea statement, Kelete explained that he entered a section of Interstate 5 that was closed because of protesters on the freeway and went the wrong way on an exit ramp. Kelete drove on the shoulder "at freeway speeds," according to prosecutors, and hit two of the protesters.
Kelete did not show signs of intoxication in field sobriety tests. He was arrested shortly after and, per court documents, told authorities that he was withdrawing from a Percocet medication and grappling with an "untreated addiction." His attorney, Francisco Duarte, shared that Kelete has shown remorse from the very beginning of this ordeal.
Duarte also stated that officers were irresponsible and did not protect the public and protesters as they should have. Love is suing the state, city and Kelete with the trial date set for next February. The lawsuit claims that Kelete was driving negligently. It also says that state and city agencies failed to block all access ramps to I-5 and declined to defend powerless demonstrators.
The State Patrol had closed the freeway during the protest, which was part of a nightly protests over the murder of George Floyd. Kelete is set to be sentenced in September.