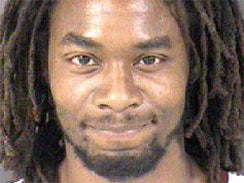 Ready to shake your head?
Mario Andrette McNeill has been charged with the rape and murder of Shaniya Davis, the five-year-old North Carolina girl who'd been reported missing by her mother last week. From The AP:
"Authorities said Thursday that Shaniya Davis was sexually assaulted and asphyxiated before her body was dumped off a rural road. Mario McNeill is charged with first-degree murder and first-degree rape of a child, Fayetteville Police Chief Tom Bergamine told reporters at a news conference.

Earlier in the week, authorities said McNeill admitted taking the girl, but Bergamine did not say whether McNeill admitted to the child's death.

A search warrant says McNeill picked the girl up in front of her home and drove her more than 30 miles to a hotel in Sanford, where she was last seen alive. Surveillance video captured McNeill carrying the girl in the building.

"It is our sincere hope that the Davis family may now begin to put this horrific event behind them and begin the healing process," Bergamine said at the news conference."