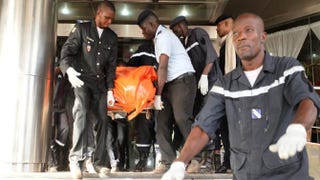 At least three suspects are being searched for by Malian security forces after allegedly unleashing a deadly assault Friday at the Radisson Blu hotel, killing 27 people, including an American health worker, according to the Associated Press.

President Barack Obama said Friday that U.S. officials were still trying to account for other Americans "who may have been at the hotel" in Mali's capital city of Bamako, the report says.

Three people are being sought in the attack that was claimed by an extremist group formed by notorious Algerian militant Moktar Belmoktar, AP writes, noting that it was carried out in cooperation with al-Qaida's "Sahara Emirate."

"The search has started and I can tell you that we are looking for more than three people at the moment," said Maj. Modibo Nama Traore, the report says.

Anita Datar, 41, who grew up in New Jersey, worked as a senior manager at the consulting firm Palladium Group and was a founding board member of Tulalens, a nonprofit "connecting underserved communities with quality health services," writes AP.
Gunmen stormed the upscale hotel early Friday, firing as their vehicle crashed through a security barrier, reports say. The exact number of gunman is unclear, but witnesses say it could have been as many as 13.
They seized hostages, most of whom were freed when Malian special forces, French special forces and off-duty U.S. servicemen entered the hotel to end the siege.
Read more at ABC News.