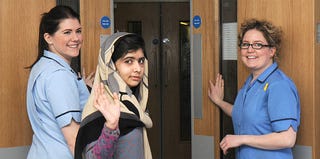 When teenager Malala Yousufzai was shot for speaking against the Taliban last year, her struggle did not go unnoticed. Now she may become the youngest person ever to win the Nobel Peace Prize, reports NBC News.
Her name was put forward by three members of the Norwegian parliament from the ruling Labor Party on their website Friday, which was the deadline for nominations.

Malala's name was put forward because of "her courageous commitment to the right of girls to education. A commitment that seemed so threatening to the extremists that they chose to try and kill her," said parliamentarian Freddy de Ruiter on the Labor party web site …

Malala was attacked in October with two other girls while traveling home from school in Pakistan's Swat valley. The gunman boarded the van and asked for her by name before firing three shots at her — singling her out for writing a blog that criticized the Taliban for barring girls for getting an education.
Read more at NBC News.
Like The Root on Facebook. Follow us on Twitter.