Like many of us, entrepreneur Kimberly Smith is a self-confessed "beauty junkie." This corporate attorney by day is obsessed with cosmetics, yet—also like many of us—wasn't finding the variety she needed in mass retailers.
Out of frustration, the online marketplace Marjani Beauty was born. Launched in January 2017, Marjani means "coral, or she who is precious like coral," in Swahili. For Smith, it was a tribute to the range of beauty in melanated skin.
"I thought about the diversity within the women-of-color spectrum," she says. "We come in so many diverse shades, and that's how coral is ... there are so many hues."
Currently representing 26 independent brands, Marjani is quickly rising in the realm of black beauty offerings, notably touting the largest assortment of premier indie foundations made for women of color, including AJ Crimson, Danessa Myricks and Hue Noir. Supporting independent businesses like her own is a strategic move for Smith, who wants Marjani to remain a curated boutique experience, even while its growth is already exceeding her expectations.
"Although I know I'm fulfilling a need, I know that women of color—and especially black women—we are hard customers," says Smith. "We get used to what we're used to, and sometimes we don't want to try anything else. And I know that for myself.
G/O Media may get a commission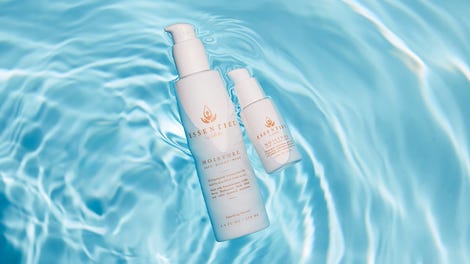 20% off
Essentiel by Adele
"I'm approaching this as a consumer: What is it I want to see, and what do other women like me want to see from a beauty company that caters to them?" she adds.
Part of Marjani's approach is not only addressing the varied issues of its consumer base but also fulfilling the desire for a variety of choices. For Smith, this also includes understanding that no one product is one-size-fits-all, even when it caters to all shades, as did the cosmetics line named the "Top Invention of the Year" by Time magazine.
"I was very excited about Fenty [foundation]—40 shades!" Smith exclaims. "But [even] Fenty is not for everybody. Fenty has a customer, a customer who is looking for what that foundation has to offer."
And for those who need—or want—something different, Marjani Beauty is there to fill the void. Understanding that choosing the right foundation is both the most important—and, often, most frustrating—part of a beauty routine, the company offers a "Buy It and Try It" Foundation Match Program online. Last summer it launched the "Perfect Match Tour," a traveling event that allows patrons to play and be perfectly paired with the right foundation by asking vital questions, like:
What's your undertone?
What type of skin do you have?
What type of coverage do you want?
For Smith, it's another opportunity to curate and elevate the beauty experience of a long-neglected customer—a customer like herself. And it's only the beginning, as she looks forward to growing more "green" beauty offerings in the new year and adding more brands to the elite range that Marjani represents. (She admits that cult favorite Coloured Raine is high on her wish list.)
But while Marjani is seeking to broaden the spectrum of easily accessible offerings in the beauty world, Smith understands that change doesn't happen overnight. She remains optimistic that as she continues to build it, a new bevy of beauty junkies will come.
"I want women of color to approach this space as somewhere you can go, feel comfortable and feel that you are the primary target so you know that you're the focus. … I really want to empower women to embrace our diversity, our uniqueness, and change how we approach beauty, and feel that we're part of the process now."