Growing up as a Ghanaian American in Central Massachusetts during the 1980s was a constant series of "firsts." I checked boxes identifying myself as a "first-generation" American. I was the first child of my African immigrant parents to take ballet and gymnastic classes. I was their first Girl Scout, first overpriced prom experience and first recipient of their Parent Plus college loan. Together, we navigated mainstream America while eating Ghanaian food at home.

Toheeb Jimoh Talks The Power, Acting With Toni Collette, & Ted Lasso on That's So Random
I was confident in my cultural identity, but juxtaposed with my black American peers and white counterparts, whose customs were different from my own, my acquiescence into self-actualization at times was challenged. My coming-of age years were as diverse as a piping-hot pot of jollof rice.
My quaint family attended Ghanaian traditional baptisms and funerals adorned in kente cloth and other garb normalizing African culture in my New England neighborhood. Mom wrapped her hair in a duku head scarf similar to Ramonda in Black Panther. My cousins and I wore bright Ankara-print fabrics like Okoye, Nakia and Shuri as we served food and drinks at Ghanaian social events. My dad and uncles donned Entumas like Zuri, although they weren't used as protective shields, as they were for Black Panther's warriors. Our African attire wasn't a costume. My parents brought Ghana to small-town America.
Three weeks into the Marvel movie's debut, filmgoers across the country have been flooding social media with pictures of themselves in African garb. Men, women and children across the Diaspora feel connected to the "Africanness" of Black Panther, and it's a beautiful, melanin-filled sight to see.
G/O Media may get a commission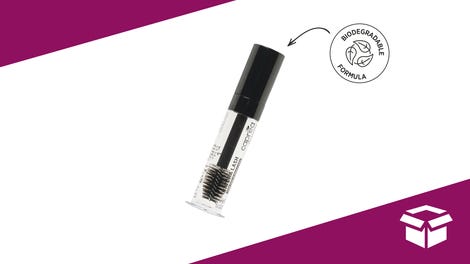 It's $8
20% Off Lash + Eyebrow Serum 2.0 - Caprea Beauty
The film connects black Americans to a continent that has ben positioned as mysterious, disease-infested and dark to the Western world. Moreover, most African Americans are descendants of the slave trade, whose African heritage, customs and religion were deliberately erased and replaced with a European system created by colonizers. Watching the two worlds marry in Hollywood matrimony is prime black pride.
In the spirit of Black Panther and African pride, I'd like my fellow blacks across the country to keep Africa closer to their hearts, like the way my parents kept Ghana close to our souls. How can we further connect to Africa beyond aesthetics? How can we sustain this feeling of Afrocentric bliss, ensuring that it doesn't become a fad?
I spoke with Linda Heywood, a professor of African-American studies and history at Boston University, and Gina Paige, president and co-founder of African Ancestry, for historical context and action steps that African Americans can take toward living their best Wakanda lives from the inside out.
[Editor's note: This interview has been edited and condensed for clarity.]
The Root: Is this moment of African Americans connecting to Africa sustainable?
Linda Heywood: There always this need for more Africa, from W.E.B. Du Bois to Martin Luther King, and ... then you have the 1957 Ghana independence; that was the first step. In the 1980s and '90s, Africa kind of went underground in a certain way because the image we were seeing of Africa [was] so negative. So it's like this is a reawakening of the connection to Africa. I think that's excellent, but we need to sustain it.
Gina Paige: The entire community has benefited from the impact of Black Panther promoting pride in being of African descent. As more people want to celebrate their Africanness, they naturally want to find their own "Wakanda." We have seen an increased interest in people wanting to know which African country and tribe or ethnic group they share ancestry with.
TR: How does finding your ancestry help with connecting to the continent?
LH: There's a deep family connection [in finding your DNA]. People need to know they are connected to something. If you think, "Oh, I'm the descendant of slaves," then you think, "Oh, I'm not connected to anything," because slavery was a temporary status that went on far too long.
GP: African Americans want to connect with Africa because our histories were stolen from us through bondage. As a result of the trans-Atlantic slave trade, we lost our names, our languages, the freedom to honor our ancestors, and our families were sold apart. You cannot know who you are if you don't have any of those things. We don't know where we are from, and we cannot use genealogy records to find out. You cannot know who you are if you don't know where you are from.
TR: How can we expect to feel knowing our biological background?
LH: Why should we be always connected to slavery? We have to make our own interpretation. Don't let people put on us that status. Connecting to Africa is one way, but it's not the way out.

GP: People feel all sorts of emotions upon receiving their results. They are overwhelmed, happy, surprised, proud, excited, curious and more. They immediately want to learn about the people and countries and share the information with their family members.
TR: How can children learn more about Africa?
LH: Not many students are learning about Africa. We have to get in those images. Not just for Black History Month. Not just Martin Luther King and Malcolm X. Junior high schoolers need to be brought into Africa in more realistic ways so that we have not just creative stories, but bring in the stories of real people who had to make real decisions and make choices. Rulers, whether they are female or male, have to make choices, and we have those elements for Europe. Let us have more for Africa. Teachers have to be able to put that into the curriculum.

TR: Where can the average adult start learning about the history of Africa?
LH: Start by reading biographies. Be realistic in how you look at your African past history, your heroes and heroines. For men, there's Shaka Zulu (South Africa), Mansa Musa (West African Mali empire) and Asantehene (Ghana). For women, there's Nana Yaa Asantewaa (Ghana), Queen Amina (Nigeria), Queen Njinga (Angola).
GP: Ethnic groups are extremely important to knowing who we are because they are the social factors that dictate culture. The top five tribes for African Americans are Fulani, Mende, Balanta, Yoruba and Tikar.
TR: Beyond history, how else can we live our best Wakanda life in America?
LH: We have to travel outside of the United States: Senegal, Ghana, Angola, Zambia, South Africa, Tanzania, Zanzibar. There are lots of sites in Africa. This is where the deep history is.
GP: Take an African Ancestry test, travel, research; reading, listening to music; meet people from Africa who live in the United States; attend festivals; watch documentaries and films produced in African countries. The truth is that we are already connected in ways that we don't even realize.