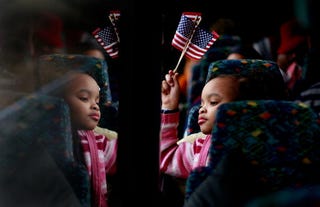 The Root wants you to help us celebrate Black History Month. We will publish photos that chronicle your family's experience in this country. We're looking for historical photographs, family reunions, graduations, weddings and funerals—in other words, images that chronicle African-American life, past and present.
We will post these photos to our site throughout February. We've published some of our favorites here as inspiration:
New Orleans graduates post-Katrina (Getty Images). A 50th wedding anniversary (Teresa Wiltz). A 1990s Kwanzaa celebration (Erin Evans). Some leggy ladies. And the day America elected a black president (Getty Images). Join the celebration: Click here to submit your black history.