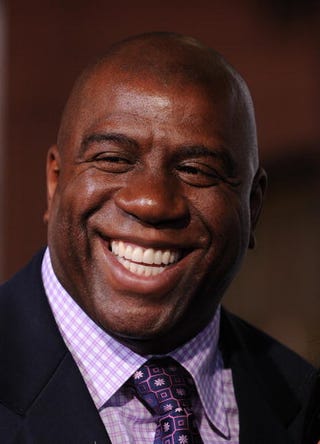 BV Money is reporting that Magic Johnson Enterprises, in partnership with the Yucaipa Cos., has invested in Vibe Holdings, LLC. This investment will make NBA legend Earvin "Magic" Johnson chairman of the media company that owns Vibe magazine, in addition to other well-known brands like Uptown and the television franchise Soul Train.
As part of this deal, Vibe Holdings, LLC will expand its media holdings in the near future to revitalize its brands, thus creating an enticing urban-media platform for choice advertisers. The Wall Street Journal is reporting that  Vibe Holdings, LLC will target "brand name" assets that serve demographics in the multicultural segment.
Johnson's pursuit of this deal reflects his commitment to becoming a stakeholder in black media, particularly after his failed negotiations to buy Johnson Publishing Co. The Vibe deal is estimated to be at eight figures. Johnson continues to put his money where his mouth — and heart — is: the black community.
Read more at BV Money.
In other news: Shonda Rhimes Casts Kerry Washington and Columbus Short in New Pilot.