Sunday's Super Bowl XLVI was the most-watched show in the history of television. The New York Giants edged the New England Patriots in what could only be reasonably described as a nail-biter in one of the most exciting Super Bowl matchups in recent history. Yet the news story that has managed to trump the actual football game is that of rapper-rocker-visual artist M.I.A. throwing up the middle finger during Madonna's, shall we say, slow but sure halftime performance.
Jabari Banks On A Potential Bel-Air Musical, Fresh Prince Cameos, & A Game of 'Which Aunt Viv?'
Apparently M.I.A. giving the bird is more newsworthy than Madonna sharing the stage with Nicki Minaj, Cee Lo and LMFAO. M.I.A.'s actions incensed network executives and the Parent's Television Council, who found the gesture offensive and called M.I.A. a "desperate performer." NBC and the NFL have both issued apologies for M.I.A.'s action, and it is clear that if the FCC gets involved, M.I.A. will suffer the consequences (see Janet Jackson). My question is, have they met her?

Clearly NBC and the NFL realized that they were taking a risk by booking Madonna, Minaj and M.I.A. — two performers (Madonna and Minaj) known for highly sexualized lyrics and dance routines (Minaj's video for "Stupid H*e" was recently banned by BET), and one known for critiquing systems of domination through art and music. M.I.A. is far from desperate — more like a desperada who stole the show from Madge, the NFL and NBC with one little finger. The Sri Lankan woman — daughter of a Tamil revolutionary, raised in South West London — makes music that rages against the machine through lyrics, performance, visual representation and style.
M.I.A.'s music is a cacophony of world, electronica, rap and dancehall, with her haunting voice layered over a driving beat. M.I.A.'s cover art and music are about giving ideas of respectability the finger and challenging dominant constructions of pretty much everything. Her music and persona are unapologetic, and she definitely still reps a B-girl stance.

One only has to listen to "Galang" to know that M.I.A. is on some other stuff — blending the paper chase, joblessness, paranoia and the search for weed in an interesting way, not seen or heard since the Geto Boys' "My Mind Is Playing Tricks on Me" (NSFW). Her most popular song in the states, "Paper Planes," critiques stereotypes of immigrants and the precarious visa process post-9/11, indicting "bonafide hustlers" and gun-running rackets in the process. The song was featured prominently in the Academy Award-winning Slumdog Millionaire and sampled by T.I., Lil Wayne, Kanye West and Jay-Z on their hit "Swagga Like Us," which was nominated for a Grammy in 2009. M.I.A. took to the stage, more than nine months pregnant and rocking the mic, and delivered, holding her own with hip-hop royalty. She was due to give birth that day but chose to perform her song at the Grammys, despite Mother Nature.
Which leads me back to my original question — have you met her?
This is a woman who never plays by the rules — even her own. For instance, who would think that someone with such a strong "fight the power" persona would bag a billionaire (Seagrams' heir Benjamin Bronfman) and give him an heir? That's exactly what M.I.A. did, turning the underground hip-hop world on its head. If you follow M.I.A., then you would know that one of her trademark moves is using her middle finger as a symbol — "Paper Planes" video, anyone?
G/O Media may get a commission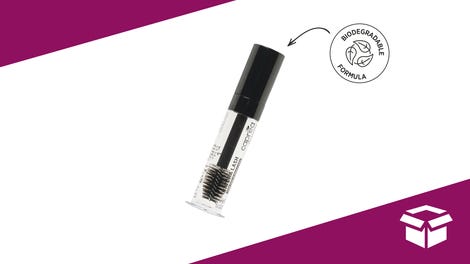 It's $8
20% Off Lash + Eyebrow Serum 2.0 - Caprea Beauty
Taking the position that M.I.A.'s middle finger is somehow more offensive than the cheerleading outfits of the NFL teams smacks of hypocrisy. The middle finger is more offensive than Kia's Super Bowl ad featuring supermodel Adriana Lima. Telefora's ad featuring Adriana Lima again, who delivers the infamous line, "Guys, Valentine's Day is not that complicated. Give and he shall receive," underscored by the sounds of moaning women in the background, is somehow not offensive. Um, OK. What about David Beckham's H&M ad showing all that God gave him to such an extent that even he admits it was embarrassing? Somehow M.I.A. flipping the bird is worse than these ads.

No one has come out to apologize for these ads, but everyone and his mother is apologizing for a middle finger. NBC and the NFL are once again scapegoating the artist — who is known for flipping the bird during performances — by pretending they didn't know that this was a possibility.
M.I.A. is complicated and never a safe bet, especially for a sporting event that is supposed to be "family-friendly." "Family-friendly" can include a violent sport and sexist representations of women, but not a middle finger.

M.I.A.'s treatment by some members of the media and the viewing community for flipping the bird is emblematic of the hypocrisy of the democracy she rhymes about in her music. The only thing more surprising than the networks feigning surprise that something "offensive" could pop off with Madonna, Nicki Minaj, M.I.A. and Cee Lo of "F—k You" fame sharing a stage, is M.I.A. apologizing.  
Now, that's an "offensive" act.
Nsenga K. Burton, Ph.D., is editor-at-large for The Root. Follow her on Twitter.
Nsenga K. Burton, Ph.D., a media scholar, is digital editor in chief at Grady Newsource and a faculty member of the Cox Institute of Journalism, Innovation, Management & Leadership at the Grady College of Journalism and Mass Communication at the University of Georgia. She is founder and editor in chief of the award-winning news blog the Burton Wire. Follow her on Twitter here or here.