Netflix has found its niche when it comes to its Marvel series. But not all of those series are created equal. Most people were left unimpressed with Iron Fist, partly because of the blandness of Danny Rand. Although I was initially excited about Jessica Jones' second season, I found it hard to get to the end. But with Daredevil, The Defenders and The Punisher, the streaming service struck gold with audiences. And with season 2 of Luke Cage premiering June 22, Netflix has struck platinum.

The Good
Season 2 of Luke Cage picks up not too long after the events of The Defenders and the consequences that came with the first season. With showrunner Cheo Hodari Coker at the helm, Luke Cage is back and is even more dynamic than in the first season. Not only does Cage (Mike Cotler) have Mariah Dillard (Alfre Woodard) to battle, but there's an even more ominous villain who will get fans excited.
Yes, you can get excited about a villain, especially when that villain's main purpose is to destroy Dillard. Mustafa Shakir's Jamaican-accented Bushmaster (think Killmonger but badder) character is sure to win over the audience as he battles both Cage and Dillard to claim his stake as the real king of Harlem.

With a storyline that includes Cage's realization that it's hard out here for a broke superhero, season 2 definitely brings it with better character development and action. And if there's anyone who stands out above the rest, it's Woodard. Black Mariah is meaner than ever, and her merry band of gangsters—who include her lover, Shades (Theo Rossi), and Comanche (Thomas Q. Jones)—she's still trying to prove that her special kind of black girl magic deserves to rule over Harlem.

G/O Media may get a commission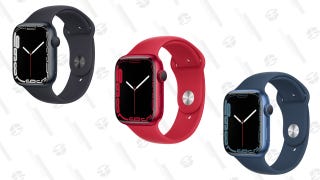 Up To $45 Off
Apple Watch Series 7
Although some may feel that season 2 is off to a slow start—which probably makes the second half of the season that much more spectacular—we learn more of the backstory of each character, and fans will also rejoice in the fact that Misty Knight (Simone Missick) not only got her groove back but also got a bionic arm.
Of course, the series returns with yet another fantastic soundtrack and musical performances that really set the mood. Making it even more enjoyable is the fact that Adrian Younge (Black Dynamite) and Ali Shaheed Muhammad of A Tribe Called Quest scored the second season. The soundtrack includes Rakim, Ghostface Killah, Gary Clark Jr. and many more. Viewers will also be gifted with performances by guest artists throughout the 13-episode season.

It seems as though Coker wanted to give people things to ponder and think about this season. There are a few storylines that may surprise viewers. From Mariah's relationship with her daughter to Shades and Comanche's friendship and Cage's own relationship with his father, family and friendship dynamics play a huge role this season.

The Bad
As stated above, season 2 does get off to a slow start, but with patience, and by episode 3, you'll appreciate that you weren't just ruthlessly thrown into storyline after storyline. There's a lot to digest this season, which is definitely worth a weekend binge, but one has to wonder what's in store for the third season. With so much uncovered and happening, I suspect that Coker has even more tricks up his sleeve the next go-round.
The Ugly
It's pretty hard to find fault with the second season of Luke Cage. But with Cage having to battle two villains, one has to wonder if some of their ugliness might eventually rub off on him. As he moves up the food chain in Harlem, Cage has some really tough decisions to make. Does he follow down the path of righteousness or does he choose to dabble in some dirt? I guess we won't find out until season 3.