What I love most about Love & Hip Hop: Hollywood is what I hated most about living in Los Angeles: the people. I'm not talking about L.A. natives, who are, more often than not, fine-fine-fine-fine-fine-fine, whew. I'm referring to the transients—specifically, those people who move to L.A. with dreams of being the next big rapper or big rapper's baby mama who do the absolute most all the goddamn time. In their minds, that's what you have to do to stand out in a city of dreamers. Insert "bless their hearts" and a praying grandmother's "mhmm" here. It tends not to work out that way in real life, but in the medium of reality television, such antics work perfectly.

Although Love & Hip Hop: Alannuh has long been my favorite, I have a special place in my heart for LHHH because it's proved itself to be the most consistent of the franchises. Much of that is rooted in the show's cast members not only being shameless, but being shameless and knowing that the intent of this show is to always be entertaining first. Love & Hip Hop: New York has its moments, but it can often come off dark and depressing. As far as LHHATL goes, subject matter that used to be amusing now often comes across as just sad—that, and I don't know who in the hell a lot of them are or what their purpose is as it relates to music. Or I don't care.
Therein lies the beauty of LHHH: It's full of people who know exactly what they signed up for and operate accordingly to the delight of my habit of live-tweeting their craziness.
When it comes to reality television and what it can do to benefit one's primary career, Keyshia Cole knows better than anyone, which is why I thought it was a good idea for her to join the show.
G/O Media may get a commission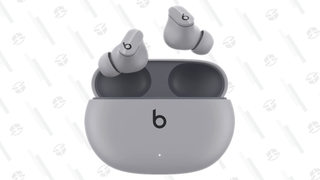 It was only right that, as the newest and now biggest star featured on LHHH, she would open the premiere. We first see Keyshia on the road sharing her excitement about working on new music. I'm glad she's back on a major label. I'm happy she's touring. I hope the music she plans to release soon lives up to what we heard on the first two albums. That recent single she dropped with Remy Ma and French Montana does not speak to the aforementioned hope, but I believe in Keysh.
Once Keyshia steps offstage to go home, we learn that she's living with her estranged husband, former Cleveland Cavalier Daniel "Boobie" Gibson. Two years ago, Keyshia publicly blasted Daniel for cheating on her and sleeping with another woman in their bed. She also posted messages that Daniel sent to an apparent groupie on a music video set and accused him of not being the most dedicated dad at the time. Now Daniel is living with her and their son, although it's very clear that the two are not back together.
During a recent interview with E! News' Daily Pop about their living situation, Keyshia explained:
"You know what? I didn't know my biological father growing up. So—it's kind of a strong, emotional situation for me... because I want DJ to have everything that I didn't. You know what I'm saying? Even though he's done a lot in the marriage that was like, Okay the ultimate no-no. But you know what? It's not about me and him at this point. My son is 7. He needs his father."
What a selfless act, especially with a spouse who allegedly cheated on her with strippers. It's still a bit interesting to see Keyshia Cole have to return to a model she basically started several years ago, but if she's going to give audiences a more adult storyline, it ought to be fine. Also: I noticed that her adopted mom, Yvonne, was present during the concert scene, but I wonder if Frankie will show up. We know Neffe won't.
By the way, Daniel continues to have rap dreams. I recall Keyshia once dubbing him a "struggle rapper." He's attractive, has a name and is country, so by default, he has a shot at scoring at least a regional hit. That said, plenty of basketball players have stepped into the booth and embarrassed themselves. I'm not including Shaq's "Biological Didn't Bother," but I am thinking of that terrible song Kobe Bryant dropped with Tyra Banks on the hook. Good luck, Boobie.
In less mature news, Hazel-E is back and obviously thrilled to be rehired on the show as a full-time cast member. Hazel dominates much of the season premiere, and her story is largely focused on more or less flashing her money, cars, clothes and new single in the faces of adversaries like Masika Kalysha and frenemy Teairra Mari. Hazel starts off by letting us know that she's no longer dating Katt Williams. That's awesome or something, but I am more curious about whether he's the one who gifted her with all these things she's trying to throw in other folks' faces. Please advise.
The thing with Hazel is, she would be much less of a target if she didn't try so fucking hard all the time. Like, if you're that much of a boss, let the work speak for itself. If you truly have money like that, people will clock in. That's not Hazel's way, though. Hazel's way is screaming every other damn minute about how rich and fly she is and that L.A. is her city.
Hazel's way is also inviting Masika and other people who either don't like her or don't care to an event where she arrives via helicopter and performs a song they all purposely ignore. This would include Zell Swag, a stylist who immediately goes into bitchy mode on the show.
Perhaps he's a lovely person, but he immediately goes for his moment, which largely centers on him chopping someone else down. But to be fair, Hazel can be annoying and appears to bring that quality out of people. I just wish she would chill and act like a human being. She can't possibly be that way with that lil' young boy she's dating, can she? Wait. Of course her ass is. Never mind.
After Hazel and Masika have words at her show, Hazel goes on to throw a drink at Teairra Mari. Considering that Hazel and Teairra used to be actual friends, you would think the two would let bygones be bygones. However, Hazel is operating with the bird mantra, "I gotta let these bitches know this is my city," and Lord knows that when Teairra Mari's got that gin in her system, somebody's gon' be her victim. So, I'm not at all surprised their sit-down drinks turned into Teairra yelling, "YOU RENTING ALL THAT SHIT" and "RATCHET ASS BITCH," along with thrown drinks and security check-ins.
Meanwhile, Miss Nikki Baby continues to worry about Teairra Mari's state of mind. Based on what we've been told, a lot of Teairra's storyline will center on her problems with alcohol and dating Cisco from LHHNY. In other words, nothing related to her singing career, which should have long been given a boost from the popularity of this show. Ugh.
When Nikki isn't worrying about Teairra, she introduces Hazel to Alexis Skyy, who VH1 says "is a former exotic dancer making waves as an aspiring artist and entrepreneur with a massive social media following." Oh, girl. She's pretty, though.
Anyhow, Alexis Skyy used to date Fetty Wap, and let her tell it, she was actually Fetty's main girl when he was fooling around with Masika. Alexis' sole mission on the show is to confront and embarrass Masika. Too bad Masika is ducking her at all costs. Masika is funny when clowning Hazel, but I forgot that she can be a bit of a mean girl. She gives me Maleficent, so is Alexis Skyy's aim to give her a dose of her own medicine? On the other hand, I do love Masika's thot bop "Andale." Let's revisit which one we hate at a later date.
In sexuality-is-a-spectrum news, Moniece is dating a woman and Fizz is perfectly fine with that so long as the kid he has with Moniece likes her. Fizz continues to be one of the few voices of reason on the show. I don't know if that's a testament to him or the decline of civilization, but you can't spot the lie all the same.
Ray J is still Ray J, and although he and Princess Love are happy newlyweds, Princess is struggling to conceive, and it's starting to take a toll on her. I will light a candle in her honor because Princess Love is stunning and looks like she can slap the stupid out of anyone and not break a sweat. Swoon.
Yes, Safaree is back, but he didn't get a lot of camera time. I assume he'll soon be telling us about his line of coconut oil and underwear in due time, though.
Before I go, let me profess my excitement over the other new cast member I'm most excited about: Brooke Valentine. I have no idea where she's been hiding. She's from Houston, but no one has texted me like, "Mike, I saw that girl who did 'Girlfight' at Pappasito's off 610 during happy hour."
I forgot how nice a voice Brooke had, though I'm now wary for her because she is dating a man who she thought was divorced but is actually married. Brooke, if your man's mama has to tell you that he's been lying to you, that's a sign to run the other way. Naturally, this same man is producing her music, plus she loves him, so she's likely to be one big-ass pity party all season. She better at least get a quality EP out of this.
In sum, this is a delightful-ass mess starring Keyshia Cole, and I'm so very happy it has come back to me.