(The Root) — With all the fuss over what's keeping black women and black men from jumping the broom, black married couples have been lost in the fray. Yes, of course they exist! In fact, the vast majority of black women and men do indeed get married.
Many of us are putting our own spin on how we love and make it work. The "traditional" route — love, marriage, then the baby carriage — works for some, but for others, love comes in the form of a blended union, a lesbian wedding or a multipartner (not-so-legal) marriage.
In a three-part series on black love and commitment, The Root will celebrate Valentine's Day by taking a look at how black folk are loving each other, the problems the community faces and the solutions for making it work.
For the third interview in our series, we caught up with Lamar and Ronnie Tyler, the founders of the award-winning blog BlackandMarriedWithKids.com and the directors of Blended, an upcoming documentary that takes an honest and transparent look at the difficulties of blending a family. With a blended family of their own — Ronnie had two children from a previous relationship, 19 and 10, and now they have two together, 6 and 5 — the happily married couple of eight years shared with The Root their insights on maintaining a united front, shutting down naysayers and making their family work.
The Root: Lamar, you didn't have children when you met Ronnie. Did you have any hesitation about dating a single mom?
G/O Media may get a commission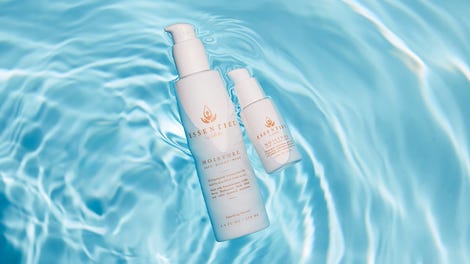 20% off
Essentiel by Adele
Lamar Tyler: Not at all. I grew up in a single-parent household, so it wasn't a big deal to me. My only stipulation was that she was able to take care of them independently. Ronnie had two children, but she was doing fine raising and providing for them. She wasn't looking for someone to come and save her.
TR: When would you recommend that single moms have a potential mate around their children?
Ronnie Tyler: I don't know if there's an exact time frame, but you should have a solid relationship in place. When I met Lamar, my daughter, who was about 2 at the time, was with me. I introduced him to my son a month later, but he wasn't really around the children very much in the beginning. When he would visit me, they would be with their father or they wouldn't be there for the weekend. But when we got into a committed relationship, I had them around then.
TR: Did you face any challenges with the children before your marriage?
RT: While we were engaged, we had a big argument over disciplining the kids. It was very hard for me because Lamar is stricter than I am, and even though I knew he was a good person, in the back of my mind I wondered, "Is Lamar hard on my kids because they are not his?" It's only natural [for] a biological mother.
Lamar reassured me that though we weren't seeing eye to eye, he was committed, in love and wanted our relationship to work. He also apologized after the argument. In the end, I had to learn his style of discipline, and it wasn't that he didn't love them. We have kids together now, and that's how he is.
LT: Discipline is such a big issue in marriage and relationships, period. When you add on a nonbiological parent, it just gets more challenging. That I didn't have children at the time was almost like a mark against me because there was [no] precedent for how I raise children.
The truth is, if I was the biological father, I would have been a lot harder. I held back on a lot of things because I wasn't. I told Ronnie I would treat my own children the same as I treated her biological children, but she thought, "OK, you're saying you would be this hard, but there's nothing to compare that to." She wasn't sure until we had our first child together two years later.
TR: After you were married, what issues came up that you hadn't anticipated?
LT: There were people outside of our relationship that really wanted to see our marriage fail. They used Ronnie's biological children as a conduit to introduce negativity into our relationship. Family members would tell our son he didn't have to listen me and I can't tell him what to do.
When he began acting out, I assumed he was coming to these conclusions on his own, but I found out later he was hearing it from his family. That was irresponsible of the adults around us. If they had a problem with me, they should have said it to me directly instead of to him.
TR: Ronnie, did you ever feel that there were people who didn't want your marriage to survive as well?
RT: I don't think they necessarily wanted our marriage to end. Many people just don't know how to have healthy relationships, and so they may have projected unhealthy habits onto our relationship, like giving bad advice or doing things that went against what our goals [were] for our family. I had to learn in the beginning of our marriage to pick and choose who I talk to about our relationship, that just because someone is family or a friend doesn't mean they will give good advice.
When we got married I was stressed, we had kids and a new house, and I didn't feel like Lamar and I were divvying responsibilities evenly. I wanted more help. I confided in a family member, and the response was, "Your husband's lazy!" I realized I had to check myself about what I said about my husband and who I said it to. If I'm saying something negative about him, that opens the door for others to say it as well.
TR: How did you learn to address discord and address grievances?
LT: We stick together and give a strong front even when we have problems. We save those conversations for when we're not in front of people. We definitely discuss the way we handle things and get our frustrations out. It's the only way to avoid allowing cracks into our foundation that lead to divorce in a lot of marriages.
TR: What practical tips do you have for blended families who are trying to make it work?
RT: Do your best to understand what everybody's needs are in your family, and try to work towards meeting them. As the biological parent, you're in the middle, and you must make sure you establish a strong relationship between the stepparent and the [child]. Make sure they both work on their relationship, no matter how hard it is, and even if you're not having a good time in the beginning. Make the extra effort.
LT: Early in the marriage, you have to have conversations about discipline, how [each of you parents] and about the noncustodial parent and what their role is. Hopefully, everybody is interested in the best interests of the child, but realistically, that's not always the case.
Also, don't get frustrated if the family doesn't bond immediately. It's a big misconception to think that within a year, you'll be like "Daddy" or "Mommy." It can take a long time for that to happen. Don't feel like you're failing; just do the best you can.
Demetria L. Lucas is a contributing editor to The Root, a life coach and the author of A Belle in Brooklyn: The Go-to Girl for Advice on Living Your Best Single Life. Follow her on Twitter.