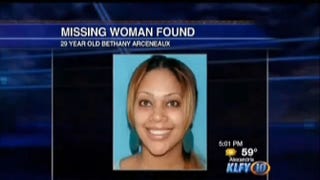 A man hunting for his missing cousin reportedly kicked in the back door of an abandoned house and shot and killed her kidnapper during a daring rescue, according to Louisiana police authorities. 
When news initially surfaced about the incident on Friday, details were unclear and it was not known who fired shots. But now, police have identified the shooter as the woman's cousin and the shooting has been ruled justified by the Lafayette Parish Sheriff's Department, CNN reports.
The sheriff's department has not released the name of the alleged shooter, but gave his account of the story. He heard screams from the house while searching for his 29-year-old cousin, Bethany Arceneaux, who went missing on Wednesday evening.
Upon entering an abandoned house, the woman's kidnapper reportedly began stabbing her. The cousin fired several shots from a handgun, but he told police he wasn't sure if he hit the kidnapper in the dark house, Sheriff's Capt. Kip Judice said, according to CNN.
Inside the house, officers recovered the body of Scott Thomas, who had a child with Arceneaux and had previously violated a restraining order protecting her, Judice told CNN.
Arceneaux, who was carried out of the house by relatives, was hospitalized with wounds but is expected to recover, reports show.
Police and bloodhounds had searched the area without success on Thursday but on Friday morning, they were greeted by about 20 relatives who had organized their own search party. Officers worked until about noon, when the cousin spotted the house.
"The cousin was at the right spot when he heard the screams," Judice told CNN.
Read more at CNN.