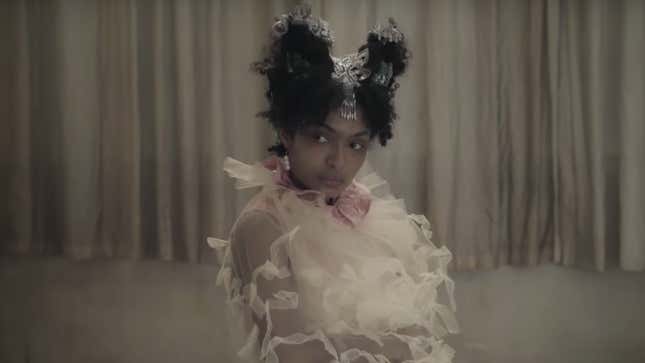 Of Shakespeare's many works, perhaps none is more famous than Romeo & Juliet, and the bard's teenaged heroine is the muse for the 2020 edition of the always-anticipated Pirelli calendar, this year photographed by the legendary Paolo Roversi, and themed "Looking for Juliet." The question posed: how do modern muses embody the romantic yet tragic fictional figure? Along with Emma Watson, Kristen Stewart, The Crown's Claire Foy and Spanish singer Rosalia, two of our personal faves were cast for this year's calendar, helping to shift the paradigm on who should be considered a classic heroine.
Per Pirelli's YouTube page:
"Looking for Juliet" is the theme of the 2020 Pirelli Calendar, shot by the photographer Paolo Roversi. Eight women, actresses and models that all embody a concept of love and who, because of the roles and their lives, could easily play the part of a modern Juliet.
"I am a non-binary black Juliet," says Indya Moore while interviewed for Pirelli's behind-the-scenes. "I really appreciate being involved in programs that highlight blackness and people of color," they add. For Moore, evoking Romeo & Juliet provided yet another opportunity to challenge the binary that dictates who is considered loveable, and by whom.
"It symbolizes prejudice. It symbolizes violence around love. What is love if someone else gets to choose how you feel it and with whom? That's not love." they say.
After watching her play a star-crossed lover in The Sun Is Also a Star, Yara Shahidi seems almost eerily appropriate to play the young romantic—we can easily see her atop most Hollywood casting lists, should another reboot be in the works (and we know how Hollywood loves a reboot). As Shahidi's also one of our favorite bibliophiles, it was no surprise to hear she'd revisited her beloved and deeply annotated high school copy of the play to get into character.
"It's a story that I've spent so much time with, and so to be in this creative reimagining is really cool," she says.
To celebrate the calendar's release, Shahidi joined Pirelli in—where else—fair Verona, Italy where Shakespeare's romance was set. Curious about the look of the 2020 Pirelli calendar? Check out their behind-the-scenes below.