If we could've been anywhere this past week to escape the summer heat (and increasingly hypocritical patriotism here in the States), it would've been Fall-Winter Haute Couture Week in Paris. From July 1st through the 5th, the City of Lights once again played host to fashion's greatest connoisseurs (when does it not?) as 34 designers presented their haute couture collections.

What's so special about haute couture? The craft has an approximately 160-year-old history and is considered the highest form of garment-making for a designer, with "haute" (silent "h") meaning "high" or "elegant," and "couture" literally translating to "sewing." There are strict regulations for the distinction of being classified haute couture, including being accepted by the Syndical Chamber for Haute Couture, which is monitored by the French Department of Industry. Members are traditionally required to produce collections twice a year, in January and July.
This year, the overriding theme appeared to be elegance; a quality sorely lacking in our cultural consciousness these days. Some consistent trends? Ladylike dressing with exotic flourishes and birdlike details—think feathers, pleats, veils, fez hats and Peter Pan caps. Also, think a comfortable return to femininity with mid-height heels, which punctuated almost every collection.
We've compiled the most notable—and wearable (sorry, Maison Margiela)—collections here for you. And yes, to us, "notable" also means the presentations that featured the most models of color and/or featured them prominently. For instance, Fendi presented a gorgeous collection (which you can watch here), but was far whiter lighter on models of color than we'd hoped (though we were impressed to see a few more Asian models in the mix than at most shows).
If you consider yourself a fashion junkie, consider this a little light weekend reading—and don't say we never gave you anything. With that, let's get started. (Glow Up tip: To see each show in action—because you really must see the clothes move, Darling—click each designer's name for video of the show.)
G/O Media may get a commission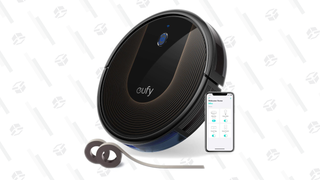 48% Off
Eufy BoostIQ RoboVac
"When you go to a Giorgio Armani show, you know it's going to be beautiful," said film director Giuseppe Tornatore at Armani. The famed Italian designer didn't disappoint; just ask living legend Tina Turner, who was front row.
That said, it was far from a fashion revolution. In fact, as reported by the New York Times, "in a statement handed out as guests entered the Armani Privé show, the collection's driving motivation was identified as 'conveying to the young generation the true meaning of haute couture, going back to the catwalk as it once was.'"
We're all for a little pushback on the almost singularly millennially-focused fashion and advertising industries, but as a result, Mr. Armani's predominantly black-and-white homage to old Hollywood came across a bit ... dated? However, when it comes to the marriage of clean lines and Italian opulence, no one does it better. Armani remains a classic.


Chanel has always epitomized "French girl chic," as defined by its namesake, Coco Chanel. This year's collection remained true to that aesthetic, melding the post-war elegance of Paris with a rakish rockabilly vibe. It's a duality Karl Lagerfeld literally infused into the clothing, adding zippers into otherwise conservative silhouettes that reveal the woman underneath, telling Vogue: "You can wear it zipped down when you visit your banker, no? And zipped up when you see your lover after!"
As for the reception to the show, which staged the Grand Palais to look like the banks of the Seine and drew fashion-obsessed luminaries like Tracee Ellis Ross, Pharrell said, "I feel like it's this amazing journey into Karl's imagination." Penelope Cruz agreed: "It's incredible what [Karl] does."


Want to know what haute couture is all about? Look no further than the house of Christian Dior, which reminded its guests exactly what the craft entails by surrounding them floor to ceiling with the cotton voile mockups required to execute its couture collection.
"Craftsmanship is long; it is a dream for a future," designer Maria Grazia Chiuri told Vogue. That dream included traditional silhouettes and details like pleated chiffons and armor-like satins on a diverse range of models, many wearing their natural hairstyles (including locs and braids) and even visible tattoos.
Famed feminist Chimamanda Ngozi Adichie's favorite? "The suits with the capes. I love the way that there's a sort of structure, but then there's something really playful about having the cape at the back." But another attendee said it best: "I loved being able to see women who looked like me on the runway with different textures of hair, all different ethnicities." J'adore Dior!


If you want to catch a glimpse of what your red carpet faves might be wearing next awards season, look no further than Lebanese designer Elie Saab, who famously designed the embroidered dress Halle Berry wore when she won her 2002 Academy Award. "In haute couture [there's] no limit; we can dream, we can change," Saab told CNBC in 2015. "The world of haute couture is another world."
For his Fall-Winter haute couture collection, Saab's silhouettes remained otherworldly and occasionally over-the-top, as evidenced by the massive '80s-era rosettes adorning a blush-colored high-low gown worn by Cindy Bruna. But when it it comes to decidedly feminine, reliably romantic glamour, Elie Saab is still your man.
"I have too many ideas," Giambattista Valli told the New York Times' cameras in 2015. "I have too much going on in my mind." It must be a beautiful mind, because when we saw Zendaya's draped mahogany gown for the 2018 Academy Awards, we knew we hadn't been paying enough attention to Giambattista Valli.
"The idea of youth is important," Giambattista Valli told Vogue backstage at his couture show. "They give a new attitude to haute couture—or at least to my eyes." Valli's couture collection may be designed with a younger client in mind, but this collection indicates that she's an old-school debutante at heart, drawn to the tulles, taffetas, feathers and feminine embellishments of an earlier, mid-20th-century generation, remixed with a slight millennial edge.


Givenchy creative director Clare Waight Keller made her indelible mark on the fashion industry in May when she was chosen to design Meghan Markle's wedding gown. Memorably, she dressed the bride in a minimalist yet elegant bateau-necked white silk cady gown, ushering in a new era of austerity to the former actress's life.
Keller's second couture collection for Givenchy, whose namesake Hubert de Givenchy died earlier this year, expanded on that austerity, sending models of both sexes down a mirrored runway in the garden of Paris's Archives Nationales wearing the clean, architectural lines the designer favors.
Not everyone was moved. "I don't really get the life from it," said womenswear label founder Essie Buckman. "It's not really 'killing me softly.'" Keller's aesthetic may be an about-face from predecessor Riccardo Tisci (now at Burberry), but she didn't entirely steer away away from sensuality, however restrained. In homage to Givenchy's former muse Audrey Hepburn, the designer reworked the iconic black gown from Breakfast at Tiffany's, and her collection managed to hint at a different type of sexiness, like the opening of a flower.


Longtime followers of Gaultier know the French designer has never shied away from a major cultural moment—think his famed 1994 "Tattoo" collection. This year, he seemed to be taking his audience to the Moroccan souks of the 1940s while paying homage to another great fashion moment: Yves Saint Laurent's "Le Smoking."
Indeed, smoking—which has become culturally taboo in the last decade—was the theme of this collection, as a continuous wisp was projected behind the male and female models, who walked the runway in an almost exclusively black-and-white collection that spanned couture to ready-to-wear. Fezzes designed by famed milliner Stephen Jones were a major accent, as were tassels—sometimes made of hair and worn as earrings.


"He made creatures out of couture!" gushed actress Melissa Leo about the midsummer night's dream Bertrand Guyon presented for for legendary Italian fashion house Schiaparelli (named for its founder Elsa Schiaparelli—and pronounced "skap-a-relli").
Staged at Paris's Opéra Garnier, Guyon's runway was filled with fantastical, beautiful references. The lines between the real and the ethereal were blurred, employing animal prints alongside animal-inspired masks—again created by Stephen Jones—to create a collection that encouraged the wearer to dream ... but was still desirable and wearable.


"Every dress in this Collection has its own precious story," Maison Valentino wrote in an Instagram post about its haute couture collection. And though we listed the collections in alphabetical order, we daresay we still managed to save the best for last, as Valentino proved exactly why it's such a legendary label.
Of the many stories behind the colorful and larger-than-life show—which featured equally voluminous hair and silhouettes—one stands out: the famous Molly Bloom soliloquy from James Joyce's Ulysses. The "yes I said yes I will yes" passion of that passage was evident in the collection, now designed by Pierpaolo Piccioli but evoking founder Valentino Garavani's rise in the 1960s.
And the marigold-colored magnificence of Adut Akech Bior closing the show? It was the perfect close to Haute Couture Week.