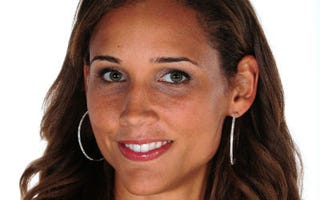 Stacia L. Brown, writing for Clutch magazine, says that criticism of the 29-year-old athlete shows that public figures should avoid the topic of their choices about sex altogether.
As part of the press junket for the upcoming Summer Olympics, U.S. hurdler Lolo Jones has been making the interview rounds, discussing her hopes for success in competition, but there's another topic she's been discussing a lot of late: her virginity. Jones is 29-years-old, and forgoing sex until marriage. Of course this is admirable, since she's doing it in part because of her religious convictions. She also pointed to her unmarried parents' break-up as a contributing factor in her decision.
But in mentioning her very personal choice to the press, Jones has also opened herself to public scrutiny. In a recent The Jane Dough article, writer Laura Donovan took issue with Jones' comment that abstinence has been the hardest thing she's done in her life …
Given the way virginity is manipulated, celebs would do well not to discuss it at all. Why would we need to know whether or not the 29-year-old athlete is sexually active? Is the public's interest in her intrinsically tied to her sex life? It shouldn't be.
Read Stacia L. Brown's entire piece at Clutch magazine.
The Root aims to foster and advance conversations about issues relevant to the black Diaspora by presenting a variety of opinions from all perspectives, whether or not those opinions are shared by our editorial staff.