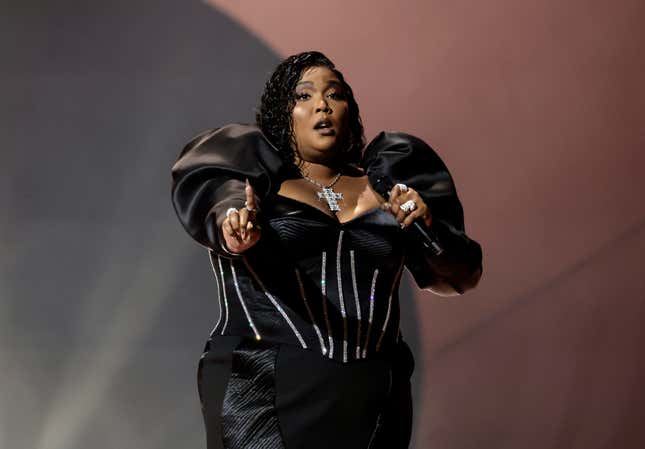 When it comes to style, you can always count on Lizzo to bring it. Whether she's walking the red carpet or doing her thing on stage, her fashion-forward, body-positive looks are just as entertaining as her music.
The Root caught up with Lizzo's long-time hairstylist Shelby Swain – nicknamed the Beyoncé of Baby Hair – to find out what it takes to style a style icon.

Fans held their collective breath until the "Truth Hurts" singer showed up on the red carpet at last night's 65th Annual GRAMMY Awards show. And the singer, who performed her hits "About Damn Time" and "Special" and took home a Record of the Year statue for "About Damn Time," did not let us down.
Swain says she took inspiration from Lizzo's gorgeous orange Dolce and Gabbana gown to create a classic red carpet hair style that was the perfect complement to the stunning floral detail on her cape.
"Creating this look for Lizzo's red carpet look was a love affair! Lizzo's look was inspired by the intricate beauty and detail of the flowers that illuminated her face and the vibrant color of her beautiful gown. I wanted to create a romantic, elegant hairstyle that complimented her bold beauty!" she said.
Swain says she relied on Sebastian's Professional Dark Oil shampoo and conditioner to give her the perfect foundation to create movement. While the Dark Oil, infused with a blend of oils including argan and jojoba, added the perfect amount of sheen.
"I placed the sweet finishing curl and completed the look with Sebastian Professional Shaper hairspray for a moldable finish and added a touch of Shaper Plus hairspray to protect and add hold with humidity protection, while utilizing a Harry Josh Needle nose flat iron to give Lizzo a fierce fiery look!"
When it came to take the stage, Swain opted for a fun, chin-length bob that held up while she held court during the performance.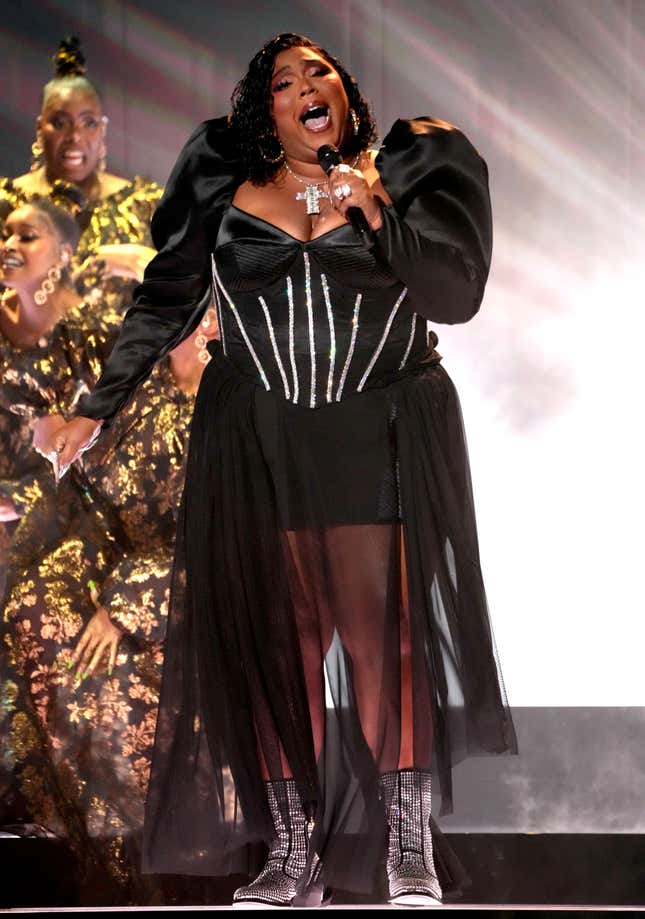 "For Lizzo's performance look, I wanted to give her a look that would move, bounce and radiate as she does on stage. We opted for a bob that would complement her face, and then we went in for the wet sophisticated simplicity of lush curls," she said.

Swain says she used Sebastian Professional Mousse Forte to mold the hair, while Sebastian Professional Gel Forte helped her define those lush curls that somehow managed to hold up throughout the performance.