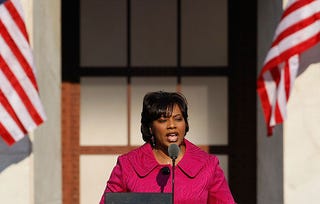 Another King is in the running to lead the Southern Christian Leadership Conference. From NPR's Morning Edition:
The two finalists for the top job are former Arkansas Judge Wendell Griffen and the Rev. Bernice King. She is the youngest daughter of Martin Luther King Jr., who co-founded the organization and was its first president.

SCLC board members will cast their ballots in a daylong session Thursday in Atlanta.

The vote is "crucial for the survival of the organization," says Ralph Luker, a civil rights historian in Atlanta. He says after four decades of strong leadership under Martin Luther King Jr., Ralph Abernathy and Joseph Lowery, the SCLC has limped along in recent times without "a clear sense of its reason for being."