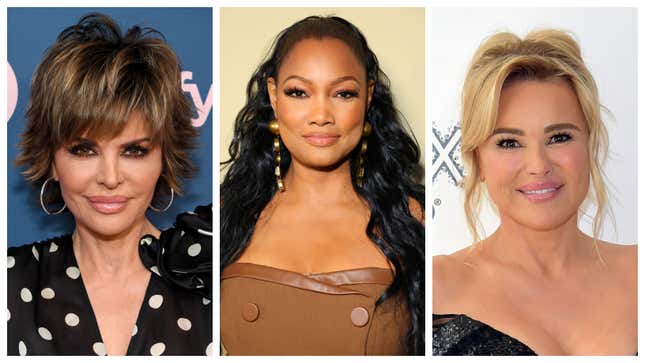 The Real Housewives nation was shaken on January 5 and 9th, 2023, after learning that after 8 seasons, soap actress Lisa Rinna will not be returning to The Real Housewives of Beverly Hills, and the one season not-hit-wonder, Diana Jenkins will also not be returning. As I'm sure some cried, others, like her co-star Garcelle Beauvais, possibly poured a glass of champagne in celebration.

Grand Crew: Season 2 & The Mandalorian: Season 3 Are Our TV Picks This Week
Rinna and Jenkins knew their fate
Hilariously, Lisa Rinna may have manifested her fate at the season 12 reunion. Reunion host Andy Cohen brought to the pouty-lipped housewife's attention that fans wanted to put her on "pause," a term used amongst the Real Housewives when they don't want to admit that Bravo fired them. She challenged Cohen by responding, "Put me on pause." Jenkins didn't even bother to attend the reunion in person, due to allegedly being "sick," an easy excuse to not be confronted in person for the ugly words and actions she committed all season.
As most of us Housewives fans do, we love a good villain. But when a cast member consistently guns for one person, it starts to get old. And unfortunately for Rinna and Jenkins, their mistreatment of Garcelle Beauvais wasn't going to slide with fans.
The beginning of Rinna v. Beauvais
The drama between Rinna and Beauvais started on season 10 of Beverly Hills when the Days of Our Lives actress badgered then Housewife and actress, Denise Richards about an alleged relationship with another former housewife, Brandi Glanville. Since Richards is one of her friends, Beauvais brought up the issue with Rinna constantly throughout the seasons. Beauvais found Rinna's questioning excessive and rude and sought out an apology on the behalf of her friend. Rinna, however, didn't take too kindly to Beauvais' foot on her neck.
Beauvais' family was under attack
The Coming to America star spent much of season 12 fighting to protect her three sons (twins, Jax and Jaid, and older son, Oliver) from her castmates—including Erika Jayne cursing at one of her twin sons at her birthday party while disrespectfully flirting with Oliver. Terrifyingly, the issues between the housewives couldn't stay between them, and one of Beauvais's twin sons received death threats from bots on their Instagram. Garcelle believed that Jenkins, who she butted heads with the entire season, had bots attack her son. Jenkins was a mess on social media as she also had internet beef with a Black-run Instagram page while the season aired, making people and Beauvais give a side-eye to the white woman.
Jenkins and Rinna social media scandals
After an episode of Watch What Happens Live aired featuring Beauvais following an episode of season 12, Cohen asked the first Black Beverly Hills Housewife about Diana Jenkins' internet trouble. Beauvais responded that her castmate was "uneducated" and "racially insensitive." That answer fueled Rinna's anger in defense of her new friend, Jenkins, posting on her deleted Instagram Story, "We fight on our show if we fight with Garcelle we are all of a sudden called racist. That's bulls—t. I will not accept that. I will express myself when and how I want and I am not afraid of any of you hoes." Sure, the Housewives are known for bickering, making up, spreading rumors, and repeating the cycle, but Rinna never let the making-up part last with Beauvais, or even happen for that matter.
There was another social media blow-up before the castmates filmed the reunion. Erika Jayne, bestie of Rinna, posted Beauvais's book, Love Me as I Am, in an overflowing trash can. When Andy Cohen brought up the post at the reunion, Lisa Rinna revealed she actually was the housewife who threw Garcelle's memoir in the trash, even though Erika Jayne was the one who posted it to Instagram. This revelation was shocking, but instead of anyone coming to Garcelle's defense, the moment passed with snickers and smiles, leading viewers to confirm their beliefs that Lisa Rinna has some racial bias on the show.
Beauvais got the last laugh
The Jamie Foxx Show star was left to defend herself and her family throughout season 12 and the reunion against the white women who just couldn't help themselves but make her life a living hell. Garcelle never let the women get the best of her, through microaggressions and unpleasant behavior. Now, it looks like karma is striking this cast. In true Housewives fashion, Garcelle shadily but rightfully posted after the news broke of Rinna's exit, showing off a stunning red hairdo with Elton John's "I'm Still Standing" playing in the background. We can only expect Garcelle to take her rightful place leading the women of Beverly Hills. Good riddance Rinna and Jenkins, you won't be missed.