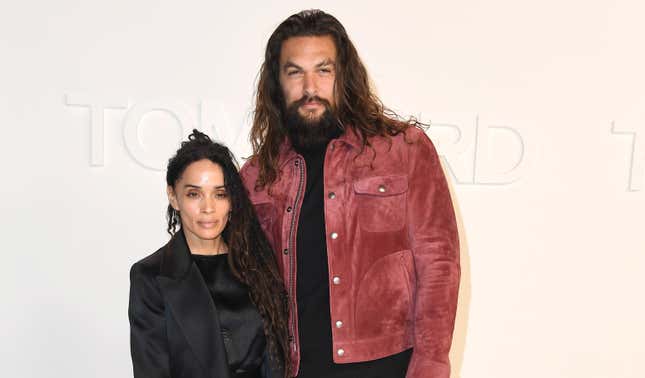 Lord, say it ain't so!
There are a lot of things I had on my 2022 Bingo card but I'd be lying if I told y'all that this was one of them.
The Wire and Death Of A Salesman's Wendell Pierce Plays That's So Random
On Wednesday night, the internet was set ablaze when Lisa Bonet and Jason Mamoa announced their split after 16 years. According to People, the most attractive couple on the entire planet pair shared the sad news in a joint statement posted on their respective Instagram pages.
"We have all felt the squeeze and changes of these transformational times.… A revolution is unfolding—and our family is of no exception," the statement began. "Feeling and growing from the seismic shifts occurring. And so-We share our Family news-That we are parting ways in marriage. We share this not because we think it's newsworthy. But so that- as we go about our lives we may do so with dignity and honesty. The love between us carries on, evolving in ways it wishes to be known and lived. We free each other -to be who we are learning to become….Our devotion unwavering to this sacred life & our Children Teaching our Children What's possible-Living the Prayer. May Love Prevail +J&L"
*Deep, heavy, Aquaman-style underwater sigh*
Well, at least their split sounds amicable and non-problematic. Let's hope it stays that way for everyone involved, especially the kids.
Speaking of Aquaman though, per EW, it appears filming for the upcoming sequel—Aquaman and the Lost Kingdom—has finally wrapped. Just one hour before Mamoa and Bonet made the announcement about their marriage ending, Aquaman 2 director James Wan posted a photo online commemorating the end of production.
"A THOUSAND THANK YOUs to all the incredible crew who worked so hard and tirelessly on this picture," Wan wrote. "Especially the UK portion where we shot 95% of the film. Truly some of the finest artisans and craftspeople I've had the good fortune to work with. And big shout-outs to the amazing Hawaiian and Los Angeles units. I have a very long way to go before it will be ready, but I can't wait to share this little film with you all."
Aquaman and the Lost Kingdom hits theaters Dec. 16, 2022.