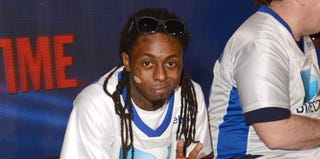 According to Lil Wayne, his recent health scare was overblown, because he's had a number of seizures in the past, reports the Daily News. 
"This wasn't my first, second, third, fourth, fifth, sixth, seventh … I have had a bunch of seizures, you just never hear about them," he reveals on his medical condition in an interview with Power 106's DJ Felli Fel …

"My heart rate went down to 30 percent," he said. "I have people around me who know how to handle it. This time was real bad because I had three back to back and the third one was so bad." …

While reports claimed the "How to Love" singer was "sippin' on some sizzurp," which caused him to seize, the music mogul insists it was "plain stress and no rest. That's just typical me."
Read more at the Daily News.
Like The Root on Facebook. Follow us on Twitter.