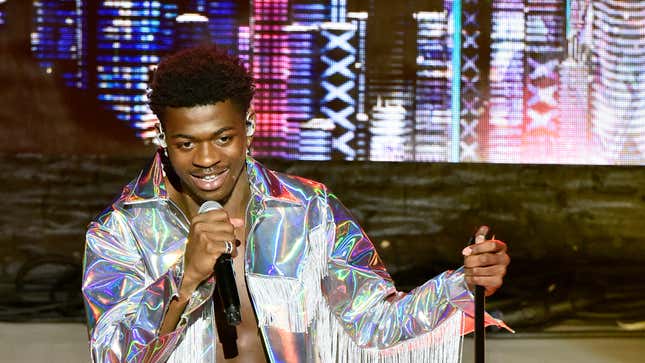 Welllll, I'm going to take my horse to the Old Town Road, I'm gonna riiiide 'till I can't no more… *record scratch* Welp, the Country Music Association voting board may say Lil Nas X can't ride his horse onto their nomination list.
Terry Crews Talks AGT, Hidden Talents, & Falling For A White Chick
According to USA Today, ballots have gone out for the 2019 CMA Awards, but some of the voters (made up of musicians, songwriters, producers, touring professionals, country radio employees and more) don't seem too sure about Lil Nas X's hit single. It is, however, eligible for top categories such as Song of the Year and Single of the Year (yes, those are two different categories in the ceremony).

"Old Town Road" recently made history when it became the longest-running No. 1 song on the Billboard Hot 100 list, dethroning Mariah Carey and Boyz II Men's "One Sweet Day." However, prior to this huge accomplishment, Billboard initially dissed the song and deemed it un-country, pulling it off the genre's charts.
And yet, Lil Nas X (and his horse) persisted. The song has blown the fuck up in the best way and fans are certainly expecting to hear or read Lil Nas X's name when the CMA Awards nominations are announced, which is expected to occur in late August or early September.

As USA Today notes:

The song's genreless approach by mixing trap beats with a Nine Inch Nails sample and Western-themed lyrics appealed to millennials on TikTok but took Nashville's music industry by surprise. While pop, rap and rock artists have gotten CMA nominations before, it's a lot harder to earn a nomination without broad support among Nashville's labels and country radio.

Nelly was nominated for musical event in 2013 with Florida Georgia Line for "Cruise," but that was a country song with a rapper added to the remix. Nelly's earlier collaboration with Tim McGraw on "Over and Over" in 2004, which was primarily promoted as a rap song, did not earn any nominations from the CMAs.
"I just think country people do not see that as a country song," Monument Records co-president Shane McAnally said. ″Pop listeners think it's a country song." McAnally has produced hits for artists such as Kacey Musgraves and Kenny Chesney and is one of the three producers on NBC's music competition show, Songland.
"I haven't really decided what I am going to do where that's concerned," Thirty Tigers president David Macias noted. "There's no doubt it's the musical cultural phenomenon of the year. I am on the fence on whether or not it sits in there. It deserves some recognition, and frankly no matter what happens on the voting part, it will be interesting to see what the CMA does." The Nashville-based entertainment executive has worked with John Prine and Jason Isbell.

"I will be shocked if it makes the final ballot," McAnally added.

USA Today also points out:

During the voting period, labels or management agencies often engage in lobbying efforts that include advertisements in music industry publications. Representatives for Lil Nas X's label, Columbia Records, did not respond to the AP for comment about the CMA voting.

[Longtime country music journalist Hunter] Kelly said that since "Old Town Road" didn't originate in Nashville and Lil Nas X is not signed to a Nashville label, there's fewer voters emotionally or financially invested in seeing it nominated.
Kelly believes the song's impact alone warrants a nomination, though, particularly for Single of the Year. "If you talk about a musical event, it's still 19 weeks at No. 1," Kelly noted. "It's the all-time No. 1 on the Hot 100, so as a musical event, it totally deserves a nomination."

It totally does deserve a nomination, at the very least. Can't nobody tell Lil Nas X nothin', but hopefully the voters tell each other to do the right thing and give "Old Town Road" its things.

The 53rd Annual CMA Awards will air on Nov. 13.