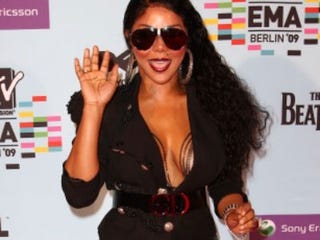 Rapper Lil' Kim owes the IRS more than $1 million, according to TMZ. The Queen Bee's tax problems, which are well-documented, have now reached what we hope are their apex because she now owes $1,026,862.42 after her 2009 total of $86,347.85 was tacked on. Kim owes the government taxes for every year from 2002 to 2009.
She has yet to release a statement on her tax situation. Kim is currently working on an untitled recording that has no release date set.
Instead of spending the last few years worried about Nicki Minaj, Kim should have had a financial adviser help her put some away for Uncle Sam. These entertainers earn money in so many different ways — sometimes through straight cash — and many of them seem to have trouble looking at that cash and thinking of having to give it away to the government. But this is the country we live in, and just like anywhere else, there are rules we all must abide by. 
Read more at TMZ.
Like The Root on Facebook. Follow us on Twitter.