In what is likely the most sickening case of "like father, like son" ever, Jeffrey Sandusky, son of former Penn State football coach and convicted child molester Jerry Sandusky, pleaded guilty Friday to all 14 counts of child sexual abuse against him.
The younger Sandusky, 41, entered his guilty pleas a week before his trial was scheduled to begin, the Centre County (Pa.) District Attorney's Office told ABC 10 News.
In February, Sandusky was charged with 14 counts of child sex abuse, including soliciting sex from a child younger than 16 and soliciting child pornography.
The case came to light after a girl told her father that Jeffrey Sandusky had repeatedly sent her text messages requesting that she send him nude photos of herself. After the father reported this to police, an investigation uncovered another girl who said that Sandusky tried to get her to have oral sex with him.
G/O Media may get a commission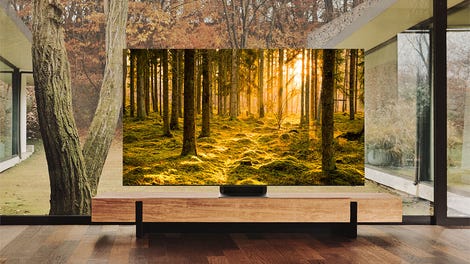 Up to 40% off
Samsung Smart TVs
Sandusky's pleas guarantee that he will serve three to six years in state prison, but it allows the judge in the case to impose as much as four to eight years at her discretion, according to the district attorney's office.
In addition, Sandusky will become a Tier 3 sex offender, which is the highest level in the Commonwealth of Pennsylvania, and he will be required to register with state police for life and verify his registration information four times a year.
Sandusky's father was convicted six years ago of sexually abusing boys over a 15-year span. The older Sandusky, 73, was found guilty and sentenced to 60 years in a "supermax" prison.
District Attorney Stacy Parks Miller said, "This outcome also ensures the victims need not suffer the trauma and revictimization of testifying at trial, and importantly, the defendant will have to comply with strict sex-offender-registration requirements for the remainder of his life."
Read more at ABC 10 News.