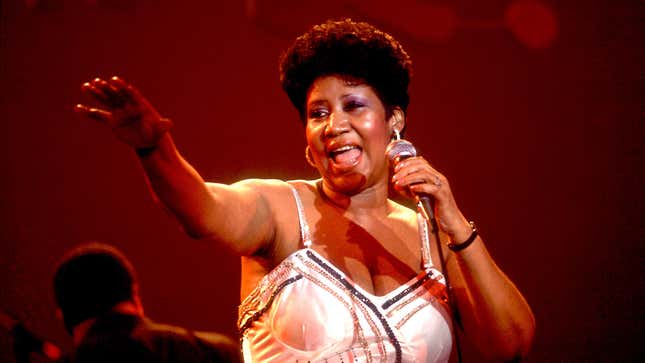 Updated on July 11 at 1:30p.m.PT: After a five year, highly contested battle between a handful of Aretha Franklin's sons and the two wills she left behind (one dated in 2012, the other 2014)—a resolve has finally been reached.
The Top 5 Rappers Of All Time According To Stephen A. Smith
On Tuesday, a jury ruled that the 2014 will—found in between couch cushions—overrides the 2010 version found in a cabinet, a decision that came much to the pleasure of two of Aretha's sons Kecalf and Edward Franklin—who stood to gain the "Respect" singer's main home (valued at $1.1. million at the time of her passing in 2018.) Had the pendulum swung in the direction of the 2010 will, Aretha's other son Ted White II would've come out on top. Per the AP, the jury took less than an hour to deliberate. All four of Aretha's sons will split music and copyright income
"I'm very, very happy. I just wanted my mother's wishes to be adhered to," Kecalf Franklin said. "We just want to exhale right now. It's been a long five years for my family, my children."
Added Ted's attorney following the ruling: ""We were here to see what the jury would rule. We'll live with it."
See the original story below.
Though it's been five years since the death of our "Queen of Soul" Aretha Franklin, it looks like certain legal matters related to her estate are still unresolved.
On Thursday, it was revealed that three of Franklin's sons—namely Ted White II, Kecalf Franklin and Edward Franklin—will be headed to court next week to determine exactly who will be the decision maker when it comes to their mother's estate.
Per the AP, the reason for the trial is centered around two handwritten wills found in Franklin's Detroit home. The first one, dated back to 2010 and found in a cabinet, names White and Franklin's niece Sabrina Owens as executors with a contingency put in place for Kecalf and Edward to "take business classes and get a certificate or a degree" before they can receive any benefits from the estate. The second will, however, which is dated back to 2014 and found in between couch cushions, has White's name removed and instead names Kecalf as executor and has no mention of business classes. The 2014 will also leaves the "Respect" singer's main home—which was valued at $1.1. million at the time of her passing in 2018—to Kecalf and his grandchildren.
While this seems like it would be a pretty open-and-shut case—with the most recent version of the will trumping the first one—the reason why things are particularly tricky is because the 2010 will is notarized and signed, whereas the 2014 will is not. However, according to Michigan law, the parameters in the un-notarized will can still be put in place so long it's dated, signed, and in the original writer's handwriting. So because of this legal gray area and uncertainty, the sons are headed to court to finally put an end to their grievances.
In a statement per court filing, an attorney for Kecalf said: "Two inconsistent wills cannot both be admitted to probate. In such cases the most recent will revokes the previous will."
White's lawyer's response? "If this document were intended to be a will there would have been more care than putting it in a spiral notebook under a couch cushion."