By New Years Eve of 2001, I'd bought a house, had a new baby and got married in a short, six-month burst. I was in a new neighborhood in the middle of Washington, D.C., where I was too lazy and too scared to run on my own. When I casually mentioned to my neighbor, Von Fogan, that I wanted to start a running club, he didn't blink: ''Let's do it.''
Von wasn't much into athletics, but his brother Darrell, a swimming instructor at Howard University, was. The next day, the three of us nursed our New Year's Eve hangovers by running in the bitter cold. Darrell was scared of dogs, so he carried a large stick as he ran. Von, a smoker, huffed and puffed. Soon, a couple of other neighbors joined us: Autumn, who taught P.E. in public school, and Gunny, a single dad with a baby my son's age.
Darrell named our club ''Big Daddy,'' the nickname he earned from sympathy weight he picked up while his wife was pregnant. We ran through the rain. We broke through a metal fence to train on a local field. We hurdled homeless men sleeping on bleachers. We laughed so hard the neighbors complained. You could set your clock to the five of us: 6 a.m. at the appointed street corner, we would be there. (And if not, expect Gunny to lead a loud trash-talking mob to your front door.)
In the eight years since, we lost one of the core founders to drugs and violence, and other, later members were tragic victims of poor physical and mental health. But despite all this, the Big Daddy Running Club is still going strong. And this year's Mother's Day run made me optimistic about the club's future. (More on that in a bit.)
With her Let's Move Campaign, first lady Michelle Obama brought into sharp focus the obstacles that inner-city communities like ours have in staying healthy. In an interview with Politico, White House Domestic Policy Adviser Melody Barnes said she's dead serious about ending childhood obesity in a generation. I've seen firsthand what they are up against: kids essentially raise themselves eating three meals a day from corner stores that sell pickled pigs feet and Twinkies, but no fresh produce. Gym memberships are expensive; the gyms themselves can be intimidating. And then, there is always that chance that you might get run over by a commuter roaring by—or catch a stray bullet. So when you see obesity, diabetes and hypertension affect adults and kids alike, it is clear why they fall along racial lines.
G/O Media may get a commission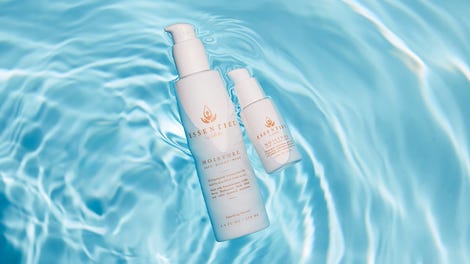 20% off
Essentiel by Adele
Today, our transitional neighborhood is increasingly racially and economically diverse; we have a farmer's market, yoga studio, gym, café's and the like. Runners and dog walkers are everywhere all the time. But in the early days, the Big Daddy Running Club was quite the curiosity. Older black men and women especially loved us. Church ladies smiled, men would honk their horns, yelling things like ''Lookin' good!'' and ''Go 'head!'' Darrell would always answer the constant questions with his South Carolina drawl. ''Big Daddy Running Club! Come and get some!'' My favorite commentary came from a bum on Logan Circle: ''I can't stand me no skinny woman,'' he said, disappointed.
It's hard to hold a club together in a transitional place like D.C. where folks get new jobs, get married, have kids, move to the suburbs. I myself had another baby, went back to grad school, changed jobs, spent time out of town to help with family. My attendance has been sporadic at best, but Darrell, aka Big Daddy, is still the rock. Today, he's joined by a hard-core contigent of folks like Allison, a stay-at-home mom, John Salatti, a lawyer who is also an Advisory Neighborhood Commissioner, and Peg Mangan, a very hip judge.
Last year, I made one of my cameo appearances only to learn that a bunch of them, including Darrell and Peg, woke up one morning and did a triathalon. A triathalon! Those two are at least 15 years older than me! I was inspired and determined not to waste my early 30s (the cute years) being out of shape. God willing, I will compete in my first triathalon this June. Given my ''juicy'' build, I'm pretty sure I'll be one of those people that folks will point to and say: ''SHE did a triathalon? I totally can do that.'' And it's true. It's amazing the things friends can get you to do.
Case in point: After years of lobbying, I finally agreed to allow my 9-year-old son to join the Big Daddy Running Club—but only if he woke up at the crack of dawn on his own. This past Mother's Day morning, he was at my bedside. ''Come on, mom. Let's do it!''
That weekend, Gunny's 9-year-old son was visiting his grandmother. When he learned we left without him, he threw his hands up at my son in frustration. ''I thought you were gonna wake me up!'' he said.
Next time—definitely.
Natalie Hopkinson is The Root's media and culture critic. Follow her on Twitter.
Natalie Hopkinson is a Washington, D.C.-based author whose current projects deal with the arts, gender and public life. She is the author of Go-Go Live: The Musical Life and Death of a Chocolate City. Follow her on Twitter.