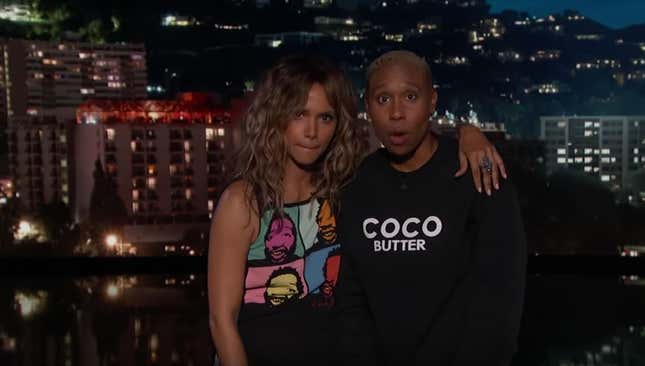 Halle Berryyy ... Halle Berry. She's fine.
Pretty much every warm-blooded person in the universe seems to think so, and I'm sure a sizable chunk of that universe has at least once fantasized about kissing her ... among other things. I can't tell you how many times friends have cited Halle's emergence from the ocean in Die Another Day as confirmation of their respective sexuality.
Courtney B. Vance in Heist 88 Is Our Black TV Pick of the Week
Focus, sirs and ma'ams!
Anyway. Lena Waithe got to live out that fantasy on live television, while she was filling in as a temp on a gig.
Allow me to explain.
Jimmy Kimmel was a bit preoccupied on Wednesday night, due to hosting ABC's Live in Front of a Studio Audience: Norman Lear's All In The Family and The Jeffersons, and likely not having the bandwidth to then go on to host his own show. But, as they say in Hollywood, "the show must go on," and that's why guest hosts exist!
Enter Lena.
Right before the episode aired, Lena posted the following on her Twitter page to promote her big night:
Oh?? Oh.
Lena started her monologue with a couple of jokes but also opened up on just how much this moment means to her, admitting she used to fantasize about hosting a late night talk show one day.
"What you are watching right now is a girl from the south side of Chicago, living out her Arsenio Hall dreams," Lena said to a crowd of cheers. She even did the patented fist-pump when she came out.
Acknowledging how much of a big deal this was, Lena chopped it up with her co-host, Guillermo, who offered the show's "Berry Button," which would be used for when she needed something important. After pushing it upon Lena's request, Halle sauntered onstage to help her co-producer (Boomerang) and now friend (their exchange starts at the 4:25 mark in case you want to cut to the chase).
"You are already winning because you are dressed way better than Jimmy ever was," Halle quipped to Lena, who is definitely known for her shoe game, at the very least. "Now, are you good or do you need something else?"
Lena replied with that same "I'm good" auto-response you tell your coworkers when they ask how you're doing, but you really not. But, Halle peeped game and gave her just what she needed: a big kiss.
See, Halle knew. Because every single minute after that, Lena embodied a different level of swag like a real nigga. And best believe folks gave Lena her props.
And yes, we do know Lena is engaged to the beautiful and talented executive Alana Mayo. I'd wager Alana enjoyed it, too.
Dreams come true every day.