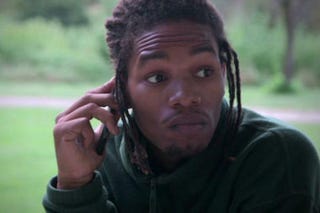 A young South Side Chicago man who starred in the CNN documentary Chicagoland, detailing his struggle to escape violence in his city, was shot to death Thursday, DNAinfo reports.
Lee McCollum Jr.—who started out with his gang affiliations but ended up graduating as an honor roll student, athlete and prom king from Fenger High School, even through his family's homelessness during his senior year—spoke about his troubles in the documentary.
"My two worries in life are not making it and not being successful and ending up on the streets being a bum," he said in August 2014. "And the second is I want to be a father that can provide for his family."
Authorities found the 22-year-old at 12:37 a.m. Thursday shot in the head in the 500 block of West 126th Street in Chicago, the site notes. He was found unresponsive but was later pronounced dead. According to DNAinfo, officials have yet to formally identify McCollum, but the Chicago Sun-Times reported that a family member confirmed his death.
In August 2014, McCollum survived a shooting that left him wounded. He said that he had been shot by two men from a car as he was walking to his girlfriend's house. 
"Sometimes I feel like I'm only born to lose. Every time you try to skip out and do something good," he said after that shooting. "The more you try to do right, the more wrong come up on you. It's hard to manage around that."
Read more at DNAinfo and the Chicago Sun-Times.
Like The Root on Facebook. Follow us on Twitter.