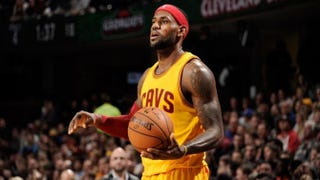 On Saturday, Chicago Bulls guard Derrick Rose hit the court during pregame warm-ups wearing a black T-shirt with white letters that read simply, "I Can't Breathe." On Sunday, Detroit Lions running back Reggie Bush wrote the phrase on his shirt before taking on the Tampa Bay Buccaneers.
The players' silent protest wasn't lost on the Cleveland Cavaliers' LeBron James, who told reporters Sunday that he was looking for a shirt of his own. "It was spectacular," James said when asked about Rose's shirt. "I loved it. I'm looking for one," the Cleveland Plain Dealer reports.
"I can't breathe" were among the last words spoken by 43-year-old Eric Garner of Staten Island, N.Y., whose death while in police custody, along with the subsequent video footage, has been at the center of national protests over police brutality directed at African-American men. The phrase has also become the refrain of protesters across the country after a grand jury decided not to indict the officer who can be seen on the video choking the father of six.   
According to the New York Daily News, if James chooses to wear the protest tee before the Cavaliers play the Brooklyn Nets at Barclays Center in New York City on Monday, he would be wearing the shirt in front of royalty—and not just America's first couple, Jay Z and Beyoncé: "Prince William and Duchess Kate Middleton will be in attendance as part of their tour of the Big Apple."
Read more at the Cleveland Plain Dealer and the New York Daily News.