A Las Vegas police officer will be facing two felony charges after using a "martial-arts-style neck hold" and, authorities say, ultimately killing an unarmed black man after a chase through a Las Vegas Strip casino in May.

According to CBS News, Clark County Sheriff Joe Lombardo announced Monday that the officer, 31-year-old Kenneth Lopera, was suspended without pay and was due to be arrested on charges of involuntary manslaughter and oppression under color of authority.
NBC News notes that Lopera was taken into custody Monday before posting $6,000 bail and ultimately being released from jail with an August court date set.
Lopera is expected to plead not guilty to the charges, according to Las Vegas Police Protective Association official Steve Grammas.
"Officer Lopera did nothing criminal," Grammas said. "We prepared him for the worst-case scenario, and it came true."
G/O Media may get a commission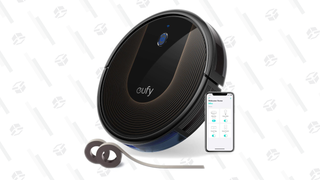 48% Off
Eufy BoostIQ RoboVac
If convicted, Lopera could face up to eight years in prison.
The announcement was made minutes after a county coroner ruled that Tashii S. Brown, 40, was, in fact, choked to death during the May 14 encounter after a chase through the back hallways of the Venetian casino, CBS notes.
NBC reports that Brown, who also used the name Tashii Farmer, had an enlarged heart and was under the influence of methamphetamine, but Coroner John Fudenberg ruled that Brown died of lack of oxygen, or "asphyxia due to police restraint."
Lopera also used a Taser on Brown seven times and punched him in the head and neck at the time of the incident, authorities said.
Back in May, Lopera and Brown encountered each other before Brown suddenly started running away. Officers reported that Brown appeared to be sweating and looked panicked as he told police that people were chasing him.
Lopera chased Brown through an employee-only area of the hotel and a stairwell before eventually catching up with Brown outside the hotel.
It was then that Lopera grabbed his Taser and deployed his weapon at Brown multiple times before being seen punching Brown in the head and neck as Venetian security guards joined the effort and other officers arrived, authorities said.
As Brown continued to struggle, Lopera applied what has been described as a "rear naked choke," according to officials. During a May press conference about the incident, Clark County Undersheriff Kevin McMahill said that Lopera applied the choke hold for over one minute—far longer than the seven to 10 seconds it may take for such a restraint to render a person unconscious.
Grammas, however, maintains that Lopera, who lost track of his partner during the chase, believed that he was facing a combative person who was attempting to carjack a vehicle.
A lawyer representing Brown's mother, Trinita Farmer, said that she had hoped Lopera would face a murder charge. The grieving mother also wants the Venetian to hold its security officers, who helped Lopera, responsible for their own actions.
"There will be a time for justice. That time is coming soon," attorney Andre Lagomarsino said. "At this time, the family wants to absorb the information that is coming out."
Family members from Hawaii and Las Vegas had just finished mourning Brown at his funeral Saturday, Lagomarsino added.