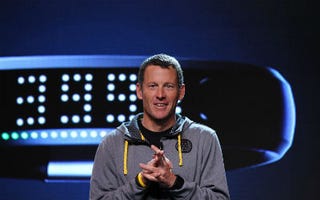 Cyclist Lance Armstrong has been fighting accusations by the U.S. Anti-Doping Agency that he used illegal performance-enhancing drugs, but now he's ended that fight. The "Livestrong" athlete announced on Thursday that he was retreating from the "one-sided and unfair process" of clearing his name after his lawyers were unable to stop USADA's nvestigation in court, reports CNN.
Famed cyclist Lance Armstrong is facing the loss of seven Tour de France titles and his fabled championship legacy after ending his fight against charges of illegal doping.

Armstrong's move prompted the U.S. Anti-Doping Agency early Friday to slap a lifetime ban on Armstrong and strip him of his wins since 1998. The cyclist announced late Thursday that he had decided not to contest what he called unfair charges of illegal doping, allegations he has consistently denied …

But there's a question of whether the agency has authority in the case. International agencies will review and possibly appeal the decision before Armstrong would face a ban and a loss of his titles.
Read more at CNN.