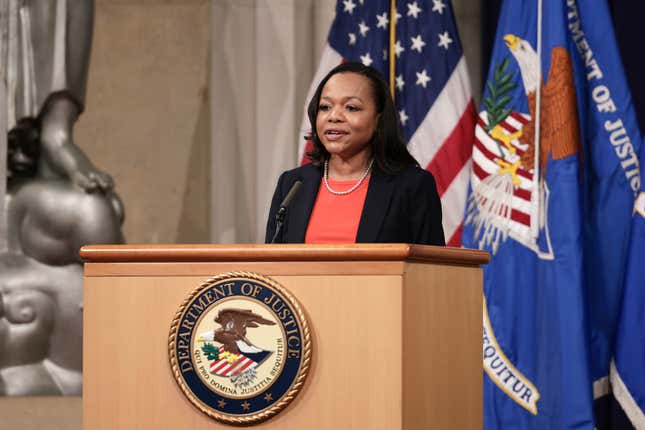 New day. New bank. Same racist nonsense.

At The Root, we've covered Wells Fargo and their ongoing issues with lending to Black borrowers. Now, City National Bank is the latest bank to be put on blast for discriminatory lending practices. And this week, the Los Angeles-based bank was hit with a $31 million payout, the largest redlining settlement in history.
NYPD Using "Zombie Warrants" To Skip The Courts and Lock People Up, Lawsuit Says
The announcement was made Thursday by Assistant Attorney General Kristen Clarke, who is in charge of the Justice Department's Civil Rights division at Second Baptist Church, a historic Black church in South Los Angeles.
According to the Justice Department, City National Bank made a practice of avoiding marketing and underwriting mortgages in primarily Black and Latino neighborhoods in Los Angeles County between 2017 and 2020. And as a result, other banks received six times the number of mortgage applications in those same neighborhoods.
They also claim that City National only opened one branch in Black and Latino neighborhoods in the past 20 years and had no employee dedicated to underwriting mortgages at that branch.
As part of the settlement, City National will create a nearly $30 million loan subsidy fund for Black and Latino borrowers. They will also spend $1.75 million on advertising, outreach and financial education programs for minority borrowers.
The Biden administration has made going after discriminatory lenders a priority, and has put a task force in place to go after the worst offenders, which includes the Justice Department, the Comptroller of the Currency and the Consumer Financial Protection Bureau.
Assistant Attorney General Clarke hopes that by coming down hard on City National, other banks will think twice before they avoid doing business with people strictly on the basis of race. "This settlement should send a strong message to the financial industry that we expect lenders to serve all members of the community and that they will be held accountable when they fail to do so," she said in a statement.
For its part, City National said it takes issue with the Justice Department's claims, but said in a statement that it will "support the DOJ in its efforts to ensure equal access to credit for all consumers, regardless of race."